British Tourist Sent To Notorious Prison With ISIS Jihadis After She Was Jailed For Having Painkillers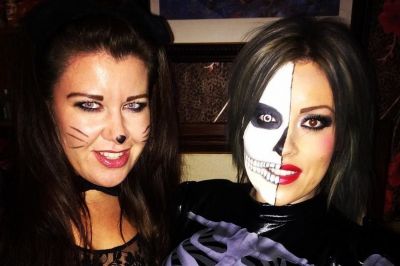 (Via Daily Mail)
Egypt has reportedly defied the British Foreign Office by sending tourist Laura Plummer to the notorious Qena prison after she was sentenced to three years' imprisonment yesterday.
Laura, 33, fell to the floor after being handed the jail term by an Egyptian court over powerful painkillers found in her suitcase.
Stunned, the woman from Hull sobbed before slumping to the floor.
'I thought I'd be freed – I thought it was the end,' she sobbed.
Laura escaped the death penalty for transporting the opiate Tramadol in her luggage at the start of a holiday. However, she was told she would still be locked up.
Today her sister Jayne Synclair revealed the Foreign Office intervened to block Laura being sent to the 'dangerous' Qena prison.
But after turning up to visit her daughter at a jail in Cairo her mum Roberta Synclair, 64, discovered Laura had been moved 150 miles to the notorious hell-hole.
Jayne, 40, said: 'It's really underhand – my mum went to Cairo to where they were told she would be but when she turned up she wasn't there.
'They have slyly taken her to where the British Foreign Office told us she would never be placed – but the Egyptian authorities have already moved her there.
'Our biggest fear with this scenario has been confirmed – she will be sharing a tiny cell with jihadi terrorists and rapists.
'I honestly dread to think. Laura won't survive a day in there – let alone three years.
'She won't even make it through that – I can't believe they've even still sent her there.'
The jail is situated north of Luxor and Jayne is fearful her sister won't make it out alive.
A Foreign Office spokesperson said: 'We are continuing to provide assistance to Laura and her family following the court ruling in Egypt, and our embassy is in regular contact with the Egyptian authorities.'
Describing the conditions in the Qena prison, Jayne said: 'I've seen pictures and if you kept a dog in there and the RSPCA saw it – you would lose your dog. It's honestly THAT bad.'
She said the family will be expected to pay for Laura's food and will only be able to visit a maximum of once every two weeks.
Jayne said the family's Christmas – and year – has been ruined following the sentencing of Laura.
She said Laura is covered in mosquito bites, had a scabby face and her hair is falling out.
Jayne said: 'Laura has got three years, but we have got a life sentence with this – our family will never be able to shake this off.
'We come from a privileged background so we did not need the money, her ticket was £500, she had £1,500 and she had £3,500 in her bank.
'There was nothing on the travel guide website when visiting Egypt that says you cannot take Tramadol into the country.
'The evidence was so overwhelming in her favour and yet she still got three years.
'Her solicitor told us that he was expecting to be freed and allowed to leave – but we think she was made an example of.'
Jayne confirmed Laura's shop assistant job in Princes Quay in Hull has been kept vacant until she returned from her Egypt hell hole.
She added: 'Laura isn't the strongest of people, she's on the verge of a nervous breakdown, covered in scabs.
'She's been bitten from head to foot in mosquito bites and she's like a ghost.
'Her skin is translucent and the muscles in her legs don't work – they're like jelly.
'That's why she had to be seated during the court hearing.'
Ms Plummer said, after her sentence: 'Everyone was saying how strong my case was and that it was only a matter of time. How can this be happening? I can't do three years here, I'm so frightened, I haven't done anything wrong.'
Shop worker Laura, from Hull, was arrested after she was found to be carrying 290 Tramadol tablets in her suitcase, a painkiller which is legal in the UK but banned in Egypt.
Ms Plummer's family, who have described her as 'naive', said she was taking the tablets for her Egyptian partner Omar Caboo, who suffers from severe back pain.
But now a judge at a preliminary court has sentenced her to three years' imprisonment and ordered her to pay a fine of 100,000 Egyptian pounds (£4,205).
Ms Plummer's sister Jayne Synclair told Sky News today that her sister – who she described as an 'absolute mess' – will have to wait 60 days before she can appeal.
She said: 'What's going to happen in those 60 days? What's going to happen to her? She thought she was going to come home. It's a living hell.'
Ms Synclair said the Egyptian justice system has 'sentenced her whole family' as they are all 'in a state' worrying if Ms Plummer will ever get out.
Last night, Ms Plummer was moved to a police holding cell next to the court in port town Safaga.
Later, Ms Plummer was told she would be transferred to Qena, 150 miles away, in just a few days, The Sun reports.
Yesterday, her lawyer said Ms Plummer had 'accidentally' confessed in front of a judge after reportedly misunderstanding a question.
Ms Plummer's family previously claimed she was suicidal after sharing a 15ft square cell with 25 women inmates.
It has also been claimed that staff at the jail – which is on the outskirts of the city of Hurgharda – have shown little sympathy for what the Egyptian media are calling the 'Tramadol Tourist'.
Mr Caboo was described by witnesses at the court as being 'very sad' after the sentence was delivered, while Laura cried so heavily that her mother had to calm her down.
Speaking after the sentence, her visibly distraught mother, Roberta Synclair, said: 'This is not fair. She's done it in all innocence.
'She brought [the drugs] to help someone, to help a family.'
She added: 'She's the kindest person… I was worried about her before, [when she was] in the police station. I'm even more worried now she's in actual prison with real criminals.
'I feel sick – I'm so frightened for her.'
She has now been transferred to a police station, from which she will be sent to jail.
The sentence, however, can be changed as the case progresses through the Egyptian legal system.
It is expected to take a minimum of one month for the second stage of the case to begin.
The family said her lawyers lodged an immediate appeal.
Ms Plummer's sister, Rachel, said their mother Roberta was 'devastated' by the sentence.
She said the family was trying to find out more details about what happened in the courtroom today.
She said: 'My mum's obviously devastated. She's out there by herself.' She added that she did not know whether the appeal would be heard today.
She said: 'We're just hoping. Even half of that would be better. Anything less than three years. She doesn't deserve that.'
Ms Plummer's MP Karl Turner said the ruling had come as a devastating blow to her family but he was hopeful that good sense would eventually prevail.
He said her case had been raised with the Egyptian authorities by Foreign Secretary Boris Johnson and the Foreign Office Minister Alistair Burt.
'I am hopeful that good sense will eventually prevail,' he told BBC Radio 4's The World At One.
'This is a damning indictment actually of the Egyptian authorities in the sense that good sense and fairness certainly hasn't prevailed in this case.
'This is a decent woman who has made a terrible mistake who shouldn't be incarcerated in any prison, never mind an Egyptian prison.'
Neville Plummer, Laura's father, said his daughter is 'on the verge of a breakdown' after the sentencing.
'The family are all absolutely devastated for Laura. It has been very distressing for everyone involved, but we have got to stay strong for Laura,' he said.
'The last time I spoke to Laura was two days after she was arrested.. To be honest, I think she was sentenced on the day she was arrested.
'This has been drawn out and dragged on and on, and in a way a line has now been drawn in the sand and things can only get better.'
'We have now got to stay positive for Laura,' Mr Plummer said.
'I will leave no stone unturned, and will let no money stand in the way of getting her the justice she needs.
'She pleaded guilty to the trafficking when she did not even mean to plead guilty that is not justice, that is an injustice.
'I will never give up with the help. It is a very sad day for the family, at what should be a happy time of the year.'
Mr Plummer praised the work of the lawyers and legal teams who had represented Laura during the hearing.
He also said Hull East MP Karl Turner had been very supportive of Laura, and was continuing in his work to help the Hull woman.
Mr Turner said: 'I am hopeful that good sense will eventually prevail.
'This is a damning indictment actually of the Egyptian authorities in the sense that good sense and fairness certainly hasn't prevailed in this case.
'This is a decent woman who has made a terrible mistake who shouldn't be incarcerated in any prison, never mind an Egyptian prison.'
Yesterday her lawyer said she had 'accidentally' pleaded guilty during a hearing.
Her mother Roberta Synclair travelled to Egypt for the Christmas Day hearing.
Her lawyer Dia al-Bassal said Ms Plummer was asked yesterday: 'You are accused of smuggling and possessing Tramadol to Egypt?'
She then replied 'yes', with the judge ensuring the clerk recorded she had 'confessed' to the crime.
But when her translator explained what the question was, she denied being guilty of the charge.
Mr Bassal told The Telegraph: 'She meant that she is admitting that she had the Tramadol, but not admitting of being guilty.
'The judge jumped to the conclusion that she confesses before clarifying that she understood the question and this is worrying.'
Ms Plummer then reportedly wept in frustration, stressing 'it's not fair'.
Her lawyer will submit an explanation today emphasising that she meant to say she had the drug with her but did not intend to sell it.
Her sister Rachel Plummer said the judge adjourned the case for a day because of Laura's condition.
She said: 'She's sleep deprived, she's visibly nervous and upset.
'She's answered some questions wrong because she's not understanding them, she obviously can't think straight.
'You can imagine the pressure – this is her life.'
She said their mother and Mr Caboo were denied access to the hearing as their driver took them to court late.
MP Karl Turner told Sky News yesterday's hearing was adjourned so that Ms Plummer could find another interpreter.
He said: 'Apparently something was lost in translation, the defence lawyer wasn't confident that Laura was understanding the questions first of all, and the interpreter wasn't correctly translating what Laura was saying in her answers.'
Mr Turner said: 'The evidence is pretty clear that she didn't know the drug was banned and she was taking it out there to help her boyfriend, who has come up with the evidence that he does suffer from a severe back problem.'
The Plummer family has previously said she had no idea that what she doing was illegal and was just 'daft'.
They said she did not try to hide the medicine, which she had been given by a friend, and she thought it was a joke when she was pulled over by officials after arriving for a holiday with her partner.
Mrs Synclair said her daughter was being held in terrible conditions in a communal cell with no beds, sharing with up to 25 other women.
She said she looked 'unrecognisable'.
Ms Plummer is being held in the Red Sea resort of Hurghada, where she was arrested at the airport on October 9.
Her family has been told that she could face up to 25 years in jail, with one lawyer even mentioning the death penalty.
Yesterday her lawyer claimed the price of her plane ticket could set her free.
Mohamed Othman said that a plane ticket shows she did not intend to sell the 290 Tramadol tablets found in her suitcase because she paid twice as much for her flight as the drugs are worth.
Othman called the plane ticket a 'key piece of evidence'.
He told The Sun: 'For someone to be found guilty of drug smuggling they have to be aware that they are possessing narcotics. Laura did not know that what she was carrying was a narcotic.
'It is illogical that she was dealing in Tramadol.She had only 320 pills – even the plane ticket is almost double the price of those pills.'
Plummer wept in court as she appeared in front of a judge on Christmas Day.
Christmas Day is a normal working day in the Islamic country, and the shop assistant from Hull appeared in the dock handcuffed.
Miss Plummer's mother Roberta Synclair and Mr Caboo arrived late to the courtroom and stood outside.
Mr Caboo, speaking outside of court, was convinced Miss Plummer would be freed.
He told MailOnline: 'I am sure Laura is innocent. She did not bring the Tramadol for selling or trading.
'I am sure she will be freed. She did not intend to do smuggle or trade.'
When Miss Plummer was arrested on October 9, she signed a 38-page document written in Arabic as she thought it would grant her freedom.
It led to her being locked up and she has already spent ten weeks in prison sharing a 15ft square cell with 25 women inmates.
Last month, her mother Roberta Synclair said: 'She did not realise what she was doing'.
She said Ms Plummer made no attempt to hide the medicine, which she had been given by a friend, and she thought it was a joke when she was first pulled over by officials when she flew into the country for a holiday with Mr Caboo.
Mass Migration 'Dangerous Failure' Says Hungary Official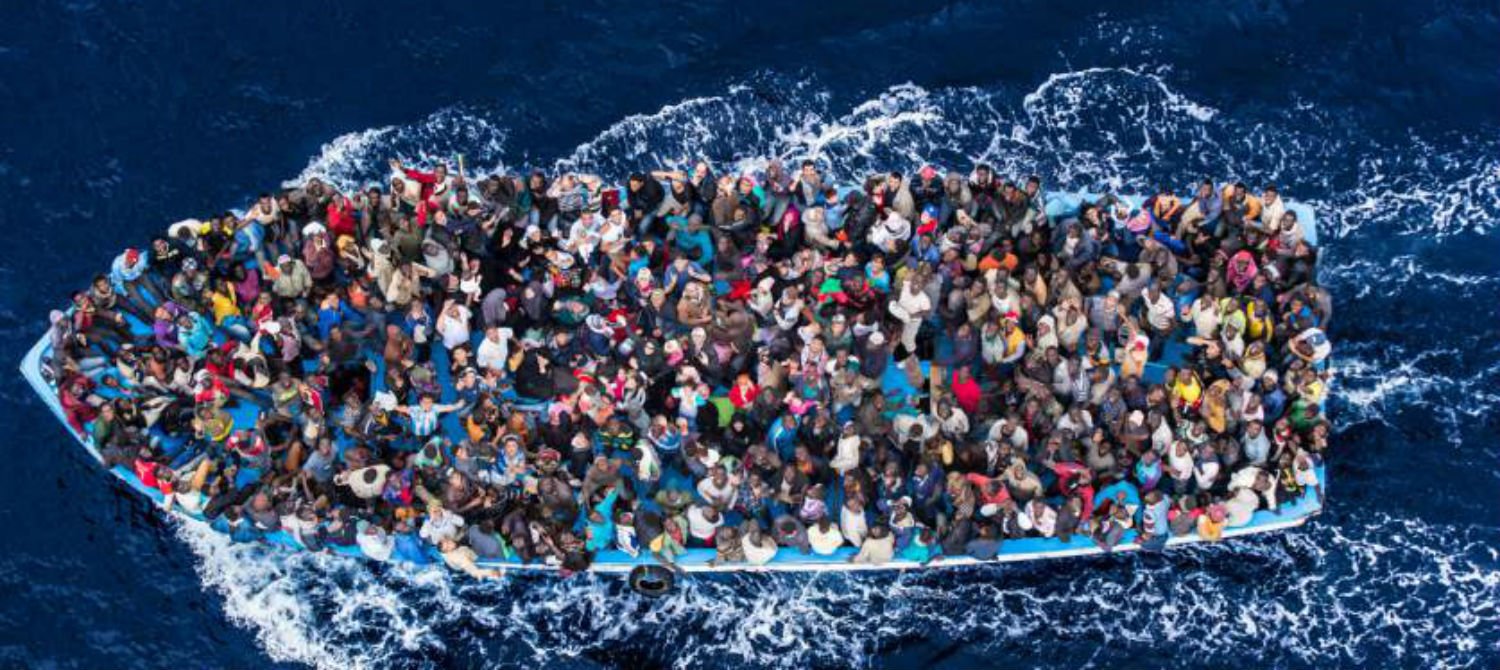 Mass migration is dangerous not only regarding terrorism, public security, culture and social security, but also the whole healthcare system, State Secretary Bence Retvari told Hungarian daily Magyar Hirlap.
According to Retvari, European epidemiological organisations have recorded a significant rise of communicable diseases, including those which had already disappeared from Europe thanks to vaccinations. Such cases have been documented in Malta, Italy and even Germany. According to the German Robert Koch Institute, since 2015 there's a 300% rise in Hepatitis B and measles, and a 200% in malaria and syphilis cases. The frequency of diseases of unknown origin has grown from 14 to 26%.
According to Retvari, by supporting the "migrant visa" (humanitarian visa), the European Parliament "gave green light to millions of illegal and economic migrants, bringing even more dangers to Europe."
"If we compare how much would Brussels spend on integrating one immigrant in Europe, – which is clearly a failed attempt based on the experiences of the recent decades -, and how much it costs to restore a home in a crisis zone, it's clear that with the same amount of money we can help a lot more people in their areas than in Europe," Retvari stressed.
He reminded that with the Hungary Helps programme the government was able to help thousands of people to restart their lives in Iraq. "So this solution is better considering effectiveness, social peace and the actually persecuted people too," he added. According to the politician, this is the solution chosen by those who really want to help, unlike the "hypocritical Brussels elite."
WATCH: Israel Blows Up Hamas TV Station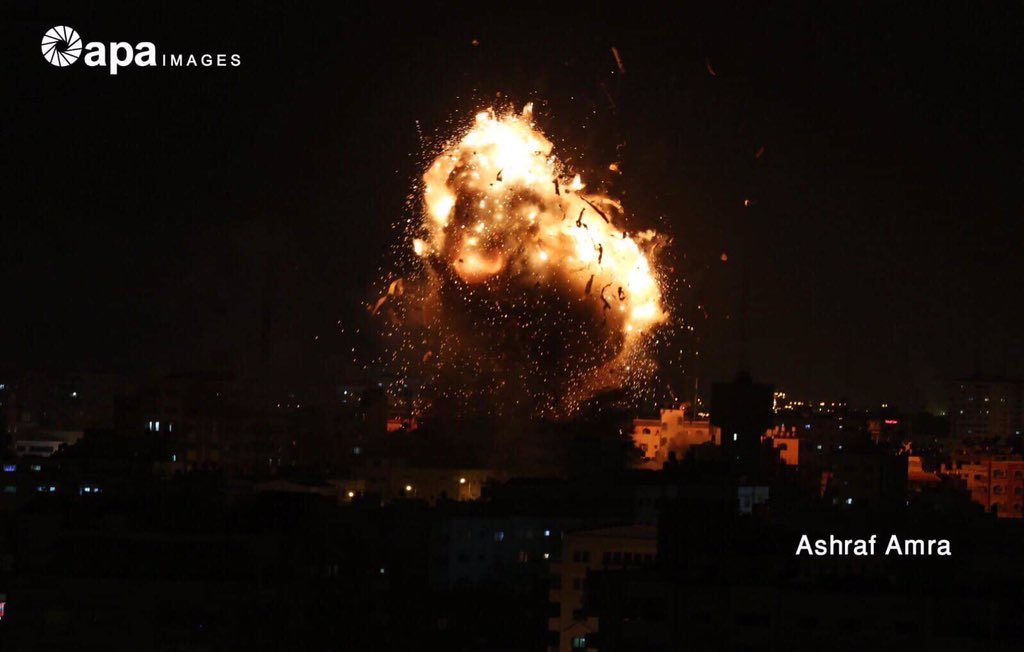 The escalation in violence began when earlier in the day Monday thousands of mourners in the Gaza Strip buried seven militants killed during the Israeli commando raid and accompanying aircraft cover fire that resulted in strikes on the strip, which further led to sporadic rocket fire from Hamas.
One Israeli soldier was reported killed during the high risk operation which reportedly involved the commandos entering Gaza by civilian car in order to take out a gathering of Hamas military leaders.
During the Gaza funeral the crowd chanted "revenge" amidst masked gunmen in camouflage.
Apparently that "revenge" came in the form of a mortar shell fired from Gaza which scored a direct hit on a bus in southern Israel, severely wounding a 19-year-old Israeli. According to multiple regional reports this was followed by a barrage of over 100 rockets fired from Gaza toward Israel within only an hour's time. Israeli sources have reported multiple injuries and extensive damage from the rockets, many of which may have been intercepted by the Iron Dome missile defense system.
طيران الاحتلال الحربي يقصف ويدمر مقر فضائية الاقصى بغزة. pic.twitter.com/VSnUpYUb2s

— شجاعية (@shejae3a) November 12, 2018
South Africa Testing "Confiscation" Of White Land To Build Affordable Housing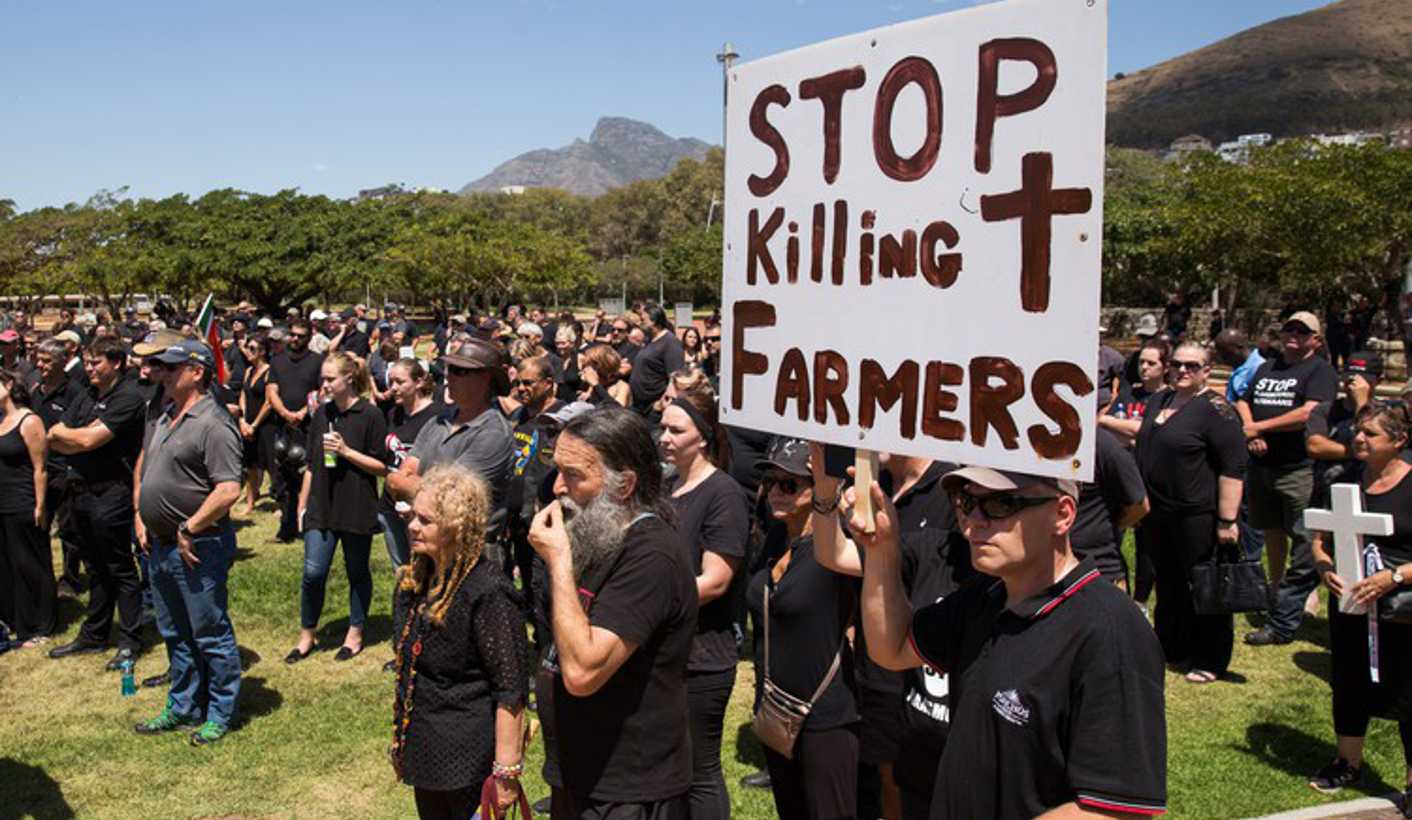 The debate about land redistribution in South Africa has been a passionate one, as many South African cities face a housing crunch that has left hundreds of thousands of people living in informal settlements. Just as this debate is starting to reach a fever pitch, one South African city, Ekurhuleni, is about to embark on what mayor Mzwandile Masina calls "a test case" for the nation: the government is going to seize hundreds of acres of land, from white citizens without paying for it, to build low-cost housing.
Last month, the city voted in favor of pushing forward with "expropriation without compensation". According to ABC News, this was cited by the African National Congress as a legal rule that is necessary in order to distribute land equitably and correct "historic injustices" that took place in the country.
The mayor of Ekurhuleni stated the same thing, saying that landowners in South Africa should not be scared. Mayor Masina told AP: "Our policy is not to take the land by force. Our policy is to make sure the land is shared amongst those that need it." It was unclear what those whom the land is taken from thought about this policy.
The total amount of land that's going to be expropriated amounts to about 865 acres. The land is both private and government owned, and some of it has been vacant for decades. Masina, who heads the local ANC-led coalition, did not specify which landowners will be hit be the measure.
The internationally debated land reform was approved by South Africa's ruling party to address the historic injustices of apartheid, and distribute land among the population more equitably. According to the country's President Cyril Ramaphosa, over 77 percent of South African farms and agricultural holdings are owned by white citizens with only four percent of lands belonging to black South Africans. White citizens make up just nine percent of the country's population, while black citizens account for 76 percent. This, to the ruling regime, is a green light to repossess land that has been owned by white citizens, in many cases for generations.