T-Mobile, Amazon, Cox and dozens of others sued over Facebook Ads Age Discrimination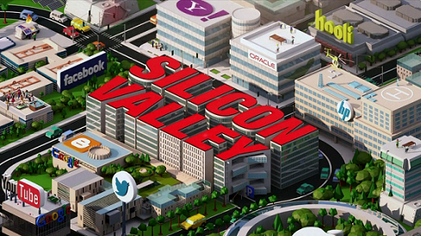 (Via RT)
Three plaintiffs have filed a class action lawsuit against T-Mobile, Amazon, Cox and dozens of other large US employers, for allegedly excluding older workers from seeing job ads on Facebook's paid advertising platform.
Linda Bradley, Maurice Anscombe and Lura Callahan contend in their complaint that "hundreds of major American employers and employment agencies routinely exclude older workers from receiving their employment and recruiting ads on Facebook… deny[ing] older workers job opportunities… by targeting their ads to younger workers."
The lawsuit was filed in federal court in San Francisco, California, on Tuesday. Plaintiffs were joined by the Communications Workers of America trade union.
The complaint includes dozens of pages showing screenshots of ads on Facebook, where T-Mobile, Amazon, Cox Communications and other companies targeted their job recruitment ads to people ages 18-38 or 22-45. By doing so, the employers violated federal, state and local laws that prohibit age discrimination in employment advertising, recruiting and hiring, the plaintiffs say. They seek an injunction to "stop America's leading companies from engaging in unlawful age discrimination."
By limiting which age groups see the ads, an older worker who loses a job and is looking on social media for employment "likely has no idea that major American companies are purposely refusing to tell her about the next job opportunity to may help her feed her family or make her next mortgage payments to stave off a devastating foreclosure," the complaint said.
"[Older] workers may finally understand why their job searches – that have migrated in recent years – are more difficult than they ought to be," it added.
Bradley, 45, lost her long-standing job at a call center in Franklin County, Ohio. She regularly uses Facebook to seek employment opportunities.
"On one occasion that Ms. Bradley received an employment ad via Facebook on her Facebook News Feed, she contacted the employers to inquire about an open position…but was routinely denied employment," the lawsuit said.
Callahan, 67, also lost a job at a call center in Franklin County, Ohio, and "has routinely been denied employment advertisements and recruitment that similarly situated workers have received in Ohio."
Anscombe, 57, became unemployed having previously worked as a cable technician for almost two decades. Before that, he was in law enforcement. He also regularly used Facebook to seek employment opportunities and "has routinely been denied employment advertisements that similarly situated workers have received in Maryland," the complaint said.
Among other claims, the plaintiffs are seeking a declaration that the practice violates various state laws prohibiting age discrimination in employment, and punitive damages for economic harm they suffered.
The case was filed several days after the 50th anniversary of Congress passing the Age Discrimination in Employment Act, and on the same day the New York Times and ProPublica published a joint investigation raising concerns over job ads aimed at younger age groups on Facebook, Google and LinkedIn.
Simply showing certain job ads to different age groups on services like Facebook or Google may not in itself be discriminatory — just as it can be OK to run employment ads in magazines and on TV shows targeted at younger or older people. What matters is that marketing is broadly based and inclusive, not simply focused on a particular age group," Rob Goldman, Facebook's vice president of advertising, said in a statement.
Twitter Profile With No Tweets Or Followers Suspended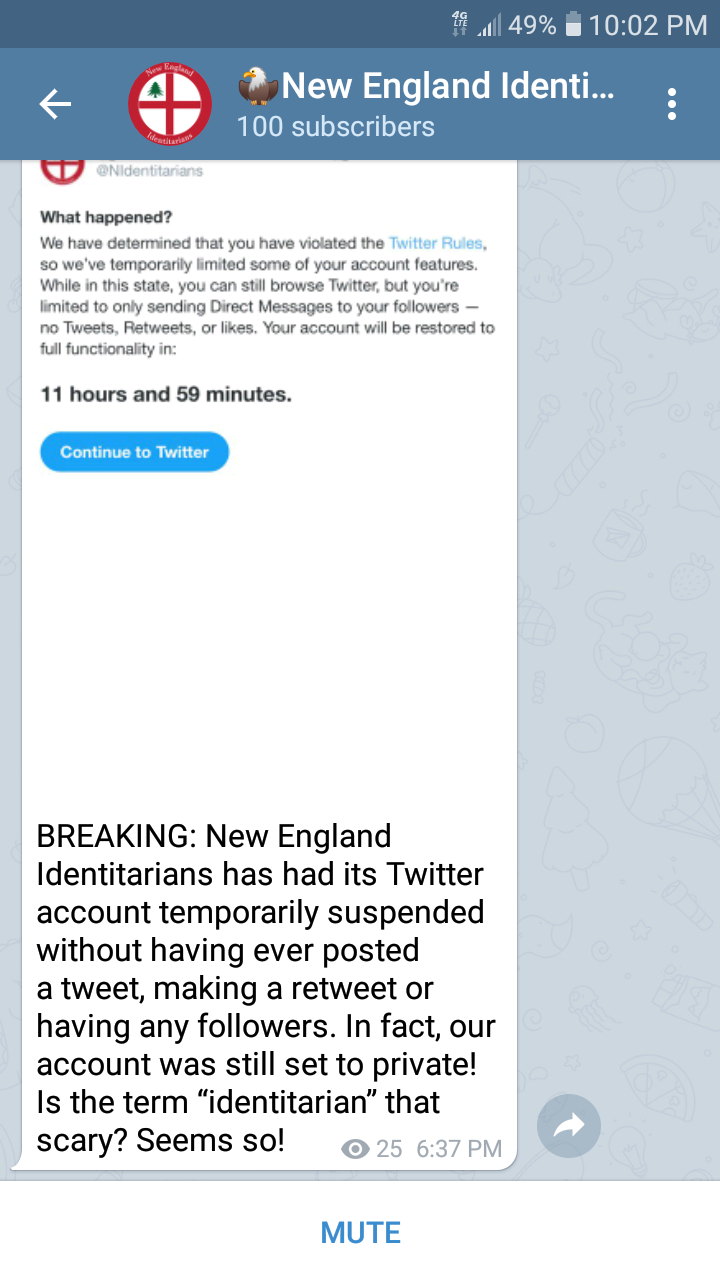 New England – A Twitter page for a group called New England Identitarians was temporarily suspended evidently for using the word "Identitarian". The page had zero followers at the time, and was yet to even make a tweet. In fact, the page was set to private. 
Regardless of what you might think of "Identitarian" ideology, most people can agree that the word itself shouldn't trigger a ban from the public square, which is what social media companies such as Facebook and Twitter are functioning as. The First Amendment was intended to protect the public from government censorship, but in the current day the main medium for public discourse is social media. Practically speaking, there is no difference. It must be lawfully determined if these companies are neutral platforms, or if they function as publishers with editorial judgement. 
The same goes for the popular video platform YouTube as well. Formerly known as a free speech medium, it's now only friendly for what are deemed acceptable opinions. Across all of these sites, "hate speech" is broadly used as an excuse to censor political views that the company doesn't like, with a strong partisan bias against conservatives. Other free speech friendly social media networks to try are Telegram, Gab, and Parlor. An up-and-coming alternative to YouTube is BitChute.  For livestreaming, there's D'Live. Perhaps it's time that we all begin to migrate away from the tyrannical mainstream sites. 
Social Media is the Biggest Threat to America… It's Time to Break Them Up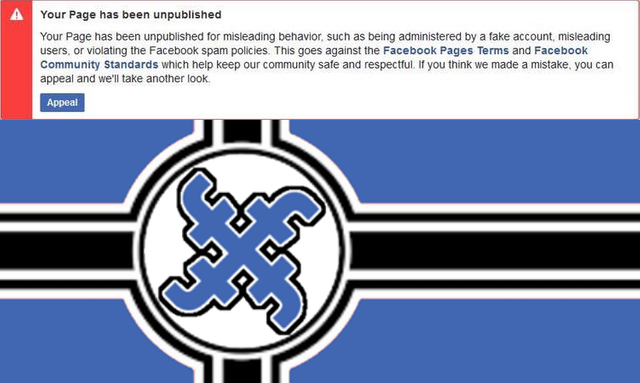 After the another mass ban by Facebook and Instagram of Alex Jones, Milo, Laura Loomer, and Paul Joseph Watson, it is evermore clear and a massive warning to all conservatives that they are not welcome on social media platforms. Something that should also be considered illegal considering their 'public square' standing and non-publisher status, which saves them from sued for libel but [should] curtail their ability to promote, dissuade, or ban content based on their choice.
Facebook went as far to even say they'll ban anyone or organization that shares content from Alex Jones, Infowars, or any of the banned people mentioned, maybe even more.
Facebook is also conducting election-meddling.  Gang Emperor Yang, a meme page for Democratic candidate Andrew Yang, was removed less than a month ago.
President Trump has yet to act on this, ironically without social media Donald Trump would never be President. Considering the Media, Entertainment, and Political monopolies are aligned against him it seems maddening that President Trump hasn't done one thing besides offer the suggestion to "be good" online.
Despite the fact that it's hard to find to find any popular conservative right besides Ben Shapiro on the internet. When 2020 roles around it's going to for Donald Trump's old coalition to remain strong when his followers, his greatest allies in media, and people who helped get elected directly are being de-platformed, silenced, and banned off of social media.
Facebook Fired Pro-Trump & Anti Hillary Founder of Oculus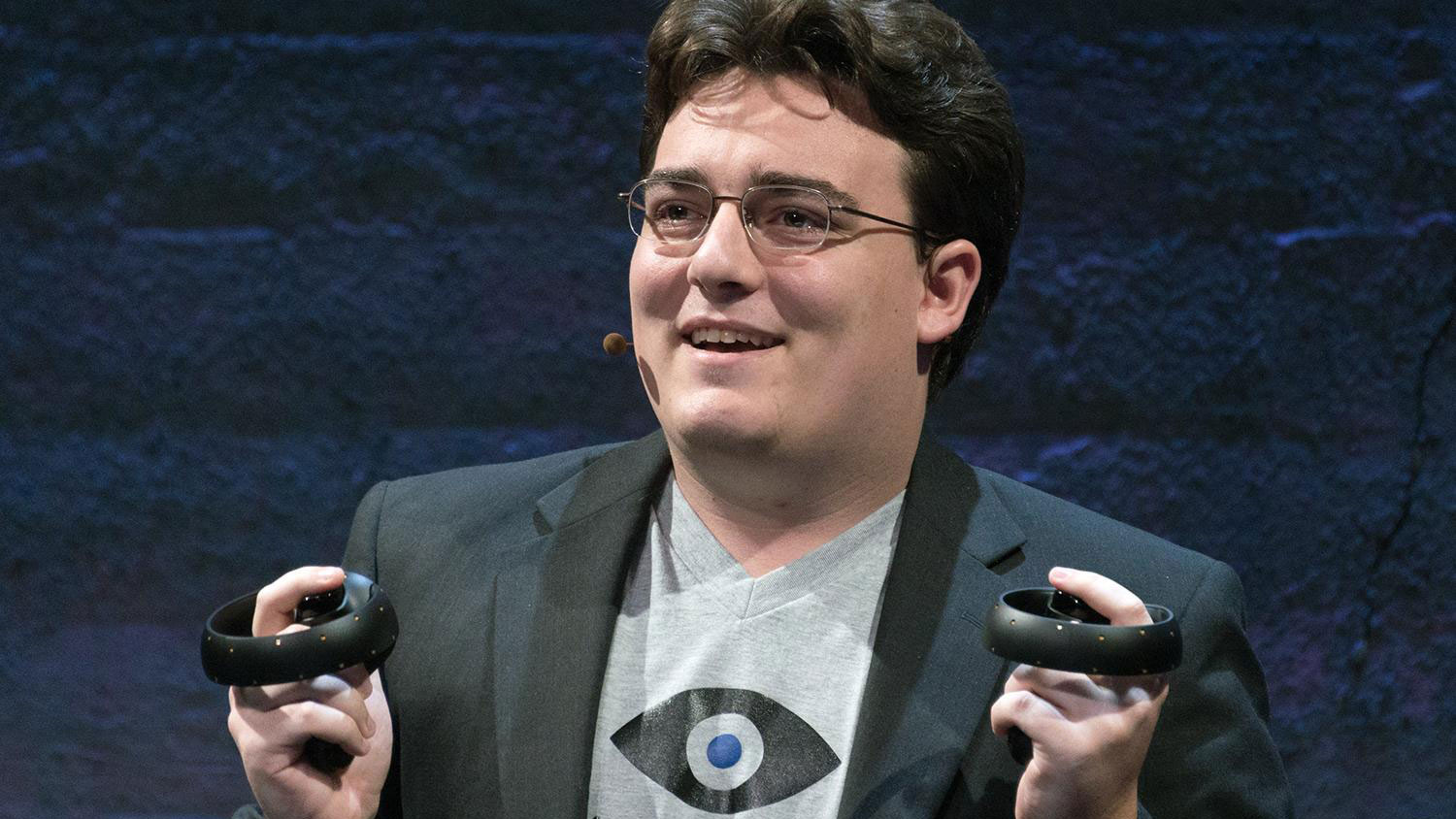 Every so often, Silicon Valley's virtue-signaling, shadowbanning, anti-conservative media titans appear in Congress or devise a quick PR campaign to show to the world just how truly impartial they are with zero liberal bias. And every single time it backfires as their true ideological face quickly emerges from behind a fake, hypocritical mask.
Take the case of former Facebook executive, Oculus co-founder and virtual-reality wunderkind Palmer Luckey, who was a rising star of Silicon Valley when, at the height of the 2016 presidential contest, he donated a modest $10,000 to an anti-Hillary Clinton group. His donation sparked a backlash from his colleagues, which then led to him being put on leave, and six months later he was fired.
What is odd about Luckey's termination, is that when testifying before Congress about data privacy earlier this year, Mark Zuckerberg denied, or rather lied that the departure had anything to do with politics. In fact, neither Facebook nor Mr. Luckey ever said why he left the social-media giant.
Until now: according to a report from the WSJ, Luckey told people the reason for his termination from that bastion of apolitical impartiality Facebook, was his support for Donald Trump and the furor that his political beliefs sparked within his employer, and Silicon Valley, some of those people say.