Do You Think Facebook Uses Your Camera And Microphone?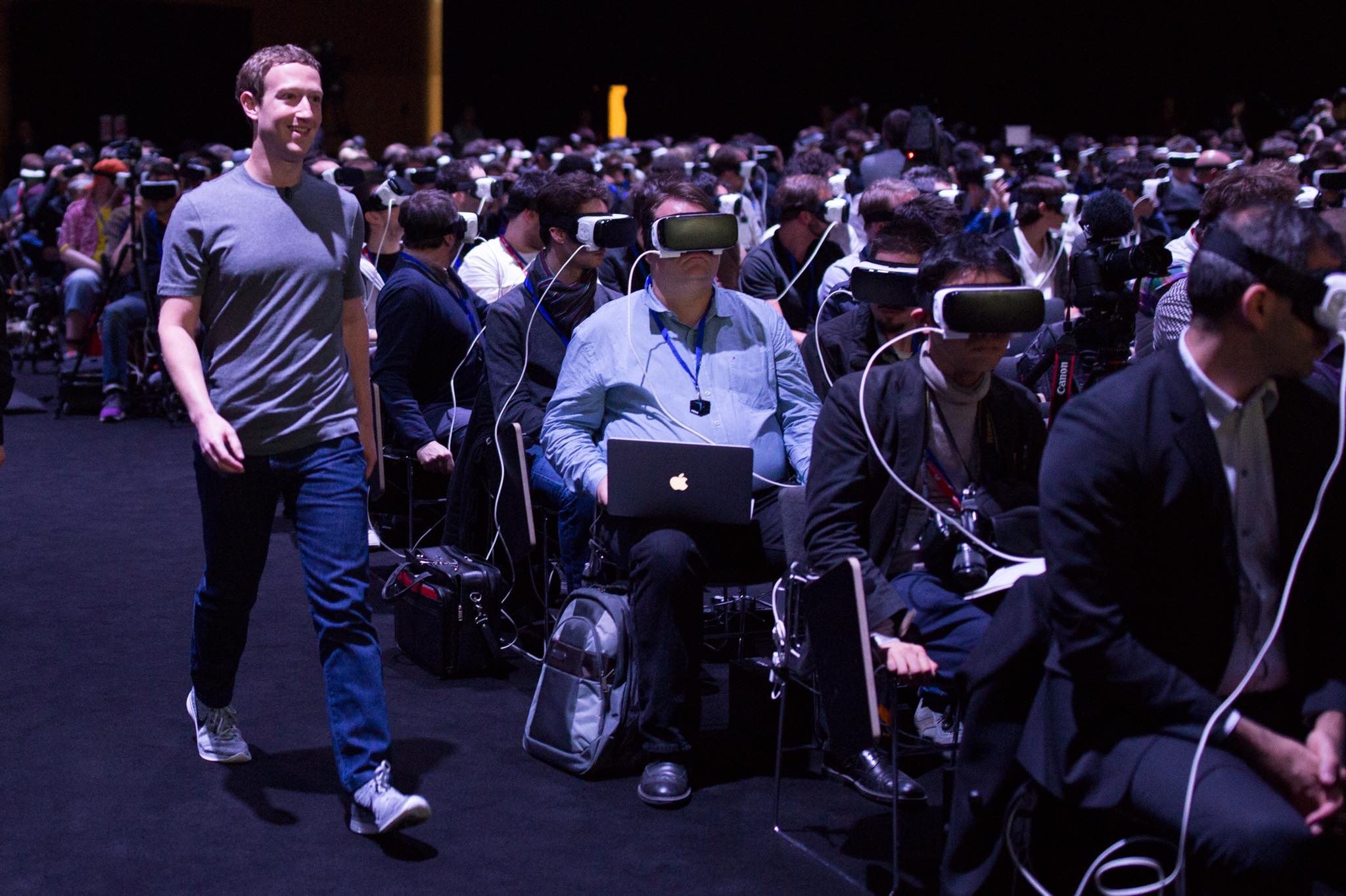 (Via ZeroHedge)
Do you ever feel like you're being watched when there's nobody else around?
Decades ago, if the answer to that question was 'yes', doctors might've advised you to see what they called a headshrinker. But technological progress has a funny way of turning situations on their head. For example, at the turn of the 20th century, everybody had horses – but only the wealthy had cars.
Today, everybody has a car: but only rich people have horses.
The same principle applies to surveillance: If you don't believe you're being spied on constantly, then you should probably have your head examined.
As advertisers hone increasingly sophisticated microtargeting techniques, ordinary social media users are reporting disturbing coincidences like the one Jen Lewis recounted to the Daily Mail.
While out shopping, Lewis and a friend discussed purchasing a film camera. Not 20 minutes later, Lewis's friend checked Facebook on her phone and discovered, to her alarm, a targeted advertisement for the very same camera she had just considered purchasing.
Then, less than 20 minutes later, an advert popped up on Lois's phone, for the exact same product. Same colour, same model, same everything.
'They're listening, they're watching,' she said.
'Oh don't be daft,' I replied. 'Who's listening? Who'd want to listen to us?'
'I'm serious,' said Lois. 'This keeps happening. This is no coincidence. Someone is listening to our conversations. Advertisers. They're listening via our phones' microphones.'
At first, Lewis didn't understand what her friend was getting at. But it quickly dawned on her: Was Facebook recording their conversation and converting its content into fodder for targeted advertisements – all in real time?
'Look at this,' said Lois, presenting me with her smartphone, where an advert for a snazzy little instamatic camera was displayed. It had popped up a few seconds earlier, when she'd logged on to Instagram.
She met my quizzical 'so what?' face with exasperation.
What were we talking about? Just now? In the street, down there?' she said.
Sure enough, we'd been window shopping before our lunch reservation, and spotted a little gadget shop. I remembered Lois had commented on the instamatic cameras on display (dropping a few hints for her forthcoming 21st birthday, I suspected).
We'd had a brief conversation about how they were all the rage in the Eighties, and how one of my memories of Christmas parties at my parents' house was listening to that familiar 'whirrr' and watching the wealthier guests flapping about the instant photos, as everyone waited for them to dry.
Of course, Facebook and its fellow tech behemoths have vigorously denied claims that they utilize smartphone cameras and microphones to beef up their targeted advertising capabilities. But the battle for dominance in the digital advertising market is so fierce, it's difficult to argue that the incentives don't exist.
Lewis interviewed another individual who decided to test whether he was being spied on by advertisers by switching his phone's microphone and camera off.
And sure enough, the creepy hypertargeted ads disappeared.
One Facebook user is so convinced his conversations are being monitored that he switched off the microphone on his smartphone — and, sure enough, there haven't been any more 'strange coincidences' since.
Tom Crewe, 28, a marketing manager from Bournemouth, was immediately suspicious in March when he noticed an advert on Facebook for beard transplant surgery. Only hours earlier he'd joked with a colleague about them both getting one, as they remained smooth-faced, despite their age.
'I had my phone's Facebook app switched on at the time. Within a few hours, an ad came through for hair and beard transplants,' he says.
'I just thought: "Why have I been targeted?" I'd never Googled "hair or beard transplants" or sent an email to anyone about it or talked about it on Facebook.'
The fact that the ad for beard transplants was so unusual and specific made him suspect his phone had been eavesdropping.
He became convinced when later that month he received an advert to his phone — again weirdly and quite specifically — for Peperami sausages.
Of course, the notion that advertisers (to say nothing of the intelligence community) are recording our every keystroke to try and sell us stuff we don't really need is something we, as a society, have grown eerily accustomed to. But the idea that these same entities are recording and filming us for their commercial benefit has, for many, yet to sink in. Of course, this reprehensible practice isn't explicitly illegal, and as Lewis points out. If anything, most people inadvertently empower advertisers by blindly signing social media platforms' "user agreements."
Tracking users offline behavior is hardly a new phenomenon; earlier this year, we highlighted a recent announcement from Google that it would begin keeping tracking users' in-store credit card purchases.
On the flip side, this arrangement is what allows us to use Facebook, Instagram and Twitter without paying for them.
Still, imagine how these companies would react if people started demanding privacy and more control over their data?
Twitter Profile With No Tweets Or Followers Suspended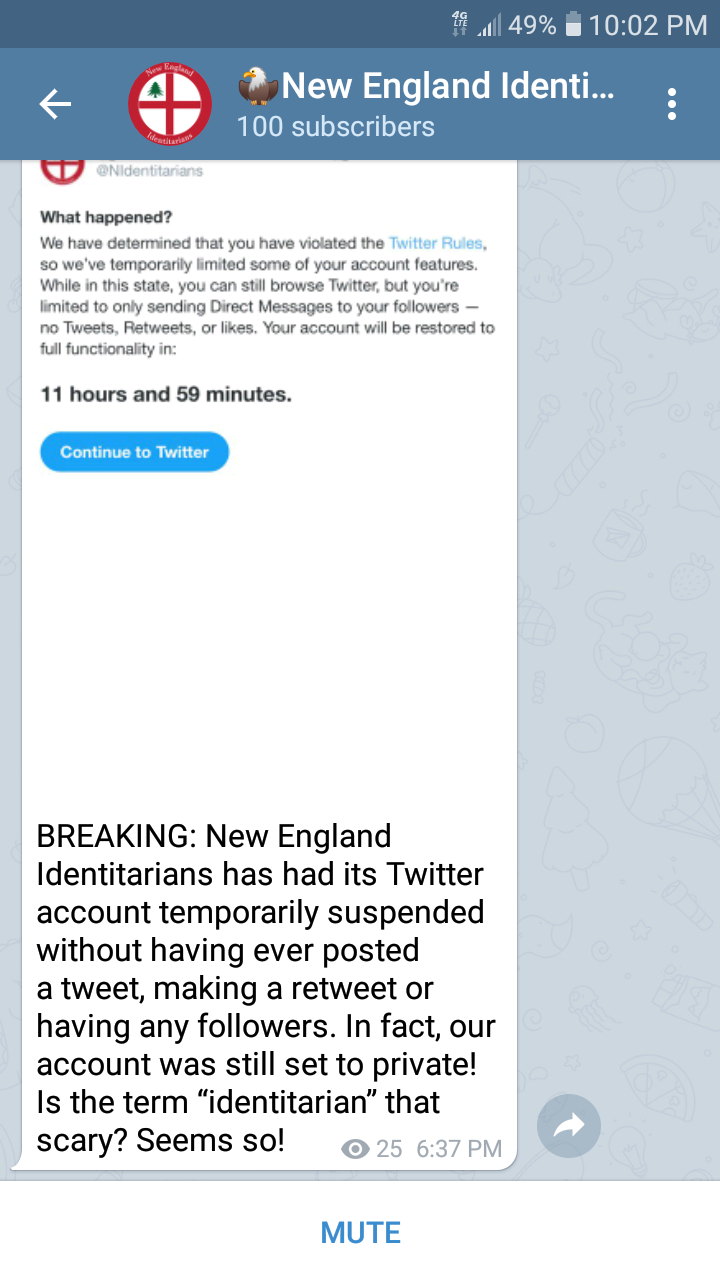 New England – A Twitter page for a group called New England Identitarians was temporarily suspended evidently for using the word "Identitarian". The page had zero followers at the time, and was yet to even make a tweet. In fact, the page was set to private. 
Regardless of what you might think of "Identitarian" ideology, most people can agree that the word itself shouldn't trigger a ban from the public square, which is what social media companies such as Facebook and Twitter are functioning as. The First Amendment was intended to protect the public from government censorship, but in the current day the main medium for public discourse is social media. Practically speaking, there is no difference. It must be lawfully determined if these companies are neutral platforms, or if they function as publishers with editorial judgement. 
The same goes for the popular video platform YouTube as well. Formerly known as a free speech medium, it's now only friendly for what are deemed acceptable opinions. Across all of these sites, "hate speech" is broadly used as an excuse to censor political views that the company doesn't like, with a strong partisan bias against conservatives. Other free speech friendly social media networks to try are Telegram, Gab, and Parlor. An up-and-coming alternative to YouTube is BitChute.  For livestreaming, there's D'Live. Perhaps it's time that we all begin to migrate away from the tyrannical mainstream sites. 
Social Media is the Biggest Threat to America… It's Time to Break Them Up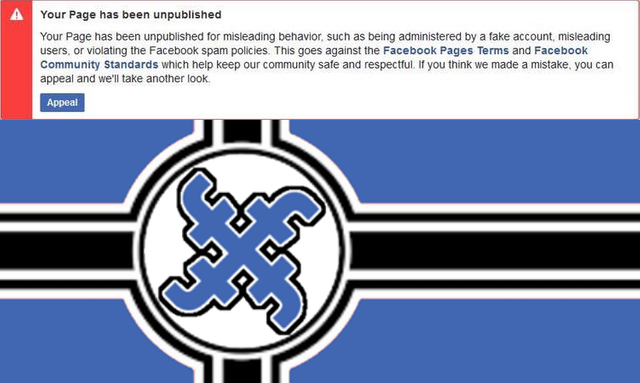 After the another mass ban by Facebook and Instagram of Alex Jones, Milo, Laura Loomer, and Paul Joseph Watson, it is evermore clear and a massive warning to all conservatives that they are not welcome on social media platforms. Something that should also be considered illegal considering their 'public square' standing and non-publisher status, which saves them from sued for libel but [should] curtail their ability to promote, dissuade, or ban content based on their choice.
Facebook went as far to even say they'll ban anyone or organization that shares content from Alex Jones, Infowars, or any of the banned people mentioned, maybe even more.
Facebook is also conducting election-meddling.  Gang Emperor Yang, a meme page for Democratic candidate Andrew Yang, was removed less than a month ago.
President Trump has yet to act on this, ironically without social media Donald Trump would never be President. Considering the Media, Entertainment, and Political monopolies are aligned against him it seems maddening that President Trump hasn't done one thing besides offer the suggestion to "be good" online.
Despite the fact that it's hard to find to find any popular conservative right besides Ben Shapiro on the internet. When 2020 roles around it's going to for Donald Trump's old coalition to remain strong when his followers, his greatest allies in media, and people who helped get elected directly are being de-platformed, silenced, and banned off of social media.
Facebook Fired Pro-Trump & Anti Hillary Founder of Oculus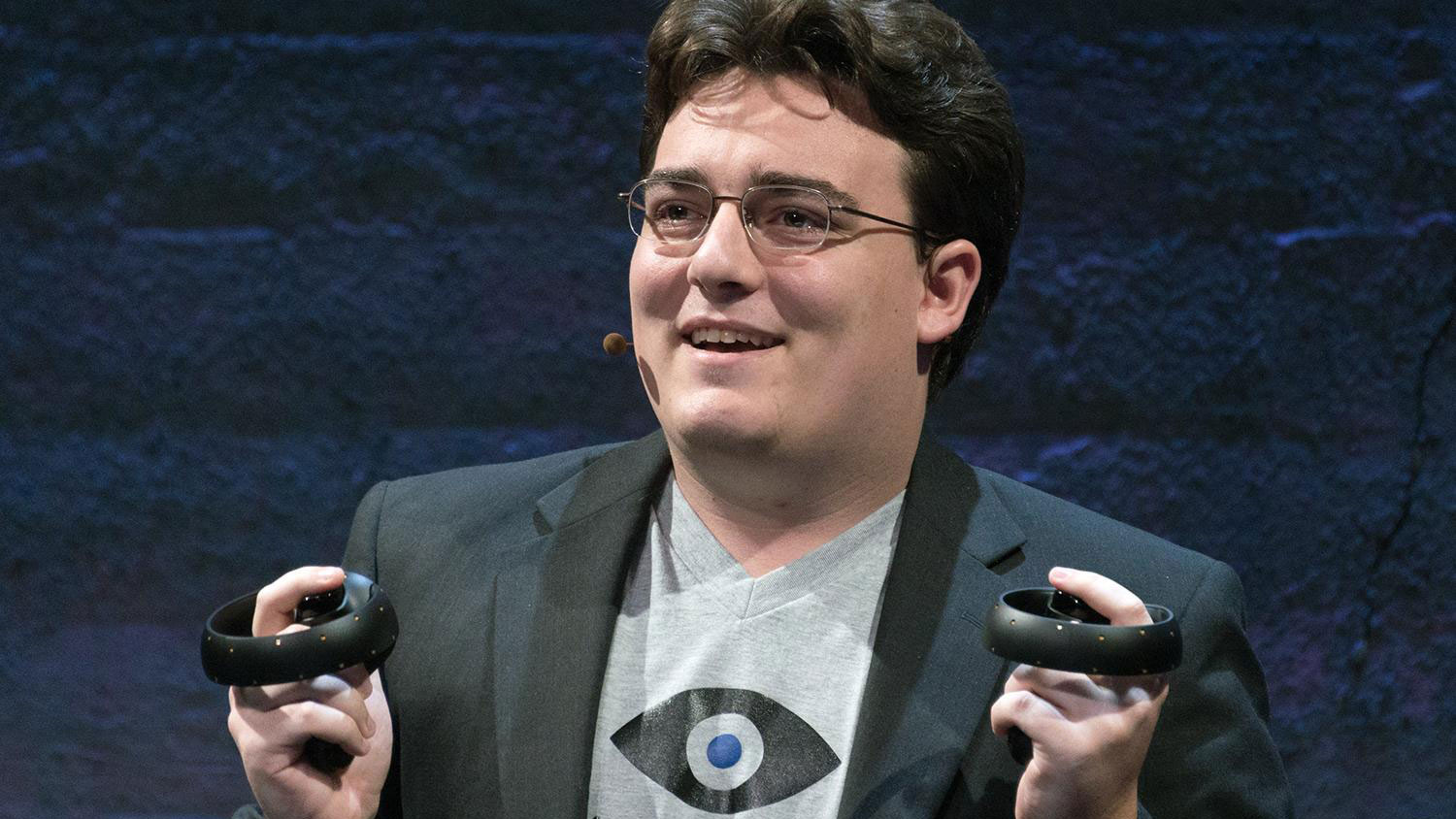 Every so often, Silicon Valley's virtue-signaling, shadowbanning, anti-conservative media titans appear in Congress or devise a quick PR campaign to show to the world just how truly impartial they are with zero liberal bias. And every single time it backfires as their true ideological face quickly emerges from behind a fake, hypocritical mask.
Take the case of former Facebook executive, Oculus co-founder and virtual-reality wunderkind Palmer Luckey, who was a rising star of Silicon Valley when, at the height of the 2016 presidential contest, he donated a modest $10,000 to an anti-Hillary Clinton group. His donation sparked a backlash from his colleagues, which then led to him being put on leave, and six months later he was fired.
What is odd about Luckey's termination, is that when testifying before Congress about data privacy earlier this year, Mark Zuckerberg denied, or rather lied that the departure had anything to do with politics. In fact, neither Facebook nor Mr. Luckey ever said why he left the social-media giant.
Until now: according to a report from the WSJ, Luckey told people the reason for his termination from that bastion of apolitical impartiality Facebook, was his support for Donald Trump and the furor that his political beliefs sparked within his employer, and Silicon Valley, some of those people say.