Inner Cities In America Are A Mess – Here's Why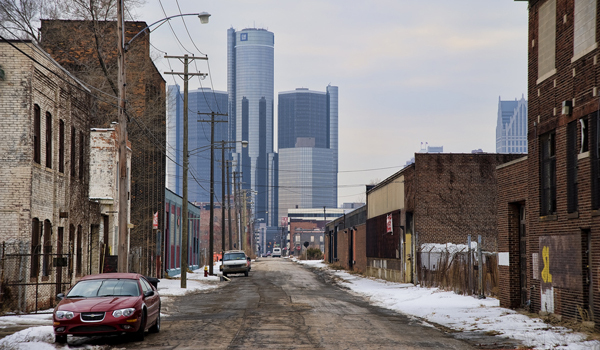 (Via Zerohedge)
The stories coming out from Chicago and Baltimore paint an increasingly pessimistic picture: that America's inner cities are transitioning into a warzone, where violence has returned to levels not seen since the drug wars of the early 1990s.
Take for example Chicago, five men were killed and at least 20 people shot over the four-day Christmas holiday weekend. Last year, 59 people were shot over the same period, leaving 11 dead.
Across the United States, homicides rose about 9% last year with more than one-third of the increase concentrated in Chicago neighborhoods, according to the Federal Bureau of Investigation (FBI). Despite the overall deterioration of American inner cities, there was some improvement in areas such as Los Angeles and Washington, D.C., where declines in violent crimes have been in downward trajectories since the 1990s.
According to the WSJ, soaring homicides in Chicago and Baltimore share wide wealth inequality rates, de-industrialization, depleted residential real estate, and a reduction of police officers following the Ferguson effect in 2014. Nevertheless, the opioid crisis is fueling much of this death and despair in the inner cities, trapping the younger generations into a perpetual world of crime.
Meanwhile, in Washington and Los Angeles, "gang interventions and community policing," which explores ways to strengthen the community have led to a long-term reduction in homicides. The article brings up the dreaded word gentrification, while it has worked in Washington to suppress crime, it has certainly not been effective in Chicago and or Baltimore.
David Weisburd, a criminologist at George Mason University said about 1% of city streets contributes to 25% of a city's crime, and 5% of the streets produces half the crime. He coined the phrase the "law of crime concentration."
In Chicago, half the violent crime came from five neighborhoods, including West Garfield Park, exemplifying Weisburd's theory. In fact, crime in the area has surged to levels not seen since the "drug wars fueled by the crack-cocaine epidemic" of the 1990s.
As the WSJ adds, "violence in Chicago erupted last year, with the city recording 771 murders—a 58% jump from 2015. The third largest city in the U.S. with 2.7 million people, Chicago had more murders than New York and Los Angeles combined." Violent crime in Chicago is concentrated in just a handful of neighborhoods, where inequalities are wide and it's not just in wealth.
WSJ interviewed Amarley Coggins who started dealing drugs aged 12. A decade later, he sits in jail for "felony drug charges and possession of a weapon".
Amarley Coggins remembers the first time he dealt heroin, discreetly approaching a car coming off an interstate highway and into West Garfield Park, the neighborhood where he grew up on Chicago's west side. He was 12 years old and had just been recruited into a gang by his older brothers and cousin.
A decade later, he sits in Cook County jail, held without bail and awaiting trial on three cases, including felony drug charges and possession of a weapon. "I have a lot of friends who didn't make it to 22," said Mr. Coggins, who hasn't entered a plea. "I want to stay alive for my son and my family."
"Baltimore City has a lot of people walking around that have committed homicides and shootings," said former deputy police commissioner, Tony Barksdale. Meanwhile community leaders and former police members warn that police have disbanded proactive operations to combat crime since the April 2015 riots:
Some community leaders and former police officials say police have pulled back from a more proactive approach on the street since April 2015, when riots erupted after Freddie Gray, a 25-year-old black man, died from a broken neck he sustained in a police van. Officers had chased Mr. Gray from North and Pennsylvania, a known drug corner, and arrested him for allegedly possessing an illegal knife.
A police department spokesman said foot patrols have increased because now officers are mandated to walk through neighborhoods in the first months of field training, which wasn't the case a few years ago.
Baltimore Police Commissioner Kevin Davis, in charge since July 2015, also said violent criminals feel emboldened. He said judges too often give offenders who use guns suspended prison sentences.
"You look at Baltimore's crime numbers, that's criminals taking advantage of weakness," Mr. Barksdale said. He further said: "I am against mass arrests, but you still need arrests."
JPMorgan Chase funds the Racial Wealth Divide Initiative at CFED, and warns an astronomical amount of Baltimore citizens have a net worth of zero; the racial divide and wealth inequality is among the highest in the country, contributing to high levels of violent crime.
Baltimore residents describe life on the streets:
Ericka Alston-Buck, who runs a youth center blocks from where Mr. Gray was arrested in 2015, says the violence is tied to poverty that hasn't eased since the riots. "You have to be here to feel the blight, the vacant houses, the cat-sized rodents that run through the streets, the open-air drug markets, prostitution, no grocery store," she said.
Jacqueline Caldwell, a local resident who leads a nonprofit umbrella group that includes several west-side community associations, said the police have become nonexistent over the past two years. "I don't think it takes a rocket scientist to figure out we need more police on the street, more community involvement with the police," Ms. Caldwell said.
John Skinner, a former deputy police commissioner who retired in 2014, said after the riots, police feared "another triggering effect." He said while he thinks the retreat from proactive policing was brief, its effects were lasting. "Violence can escalate really, really rapidly. When it occurs it's tough to get that stabilization back," he said.


The sad conclusion is that the inner-city playgrounds of the establishment elite, Chicago and Baltimore, have been let to fail. The decades-long experiment is now resulting in a war zone that is progressively getting worse, not better, despite recurring narratives to suck in poor millennials for revival purposes. As a country, it's time to take two steps back and reflect on the failures before we taking any more steps "forward" otherwise the situation will only get worse.
Lauren Witzke: Among Several Children on Hunter Biden Laptop, Including Chris Coon's Daughter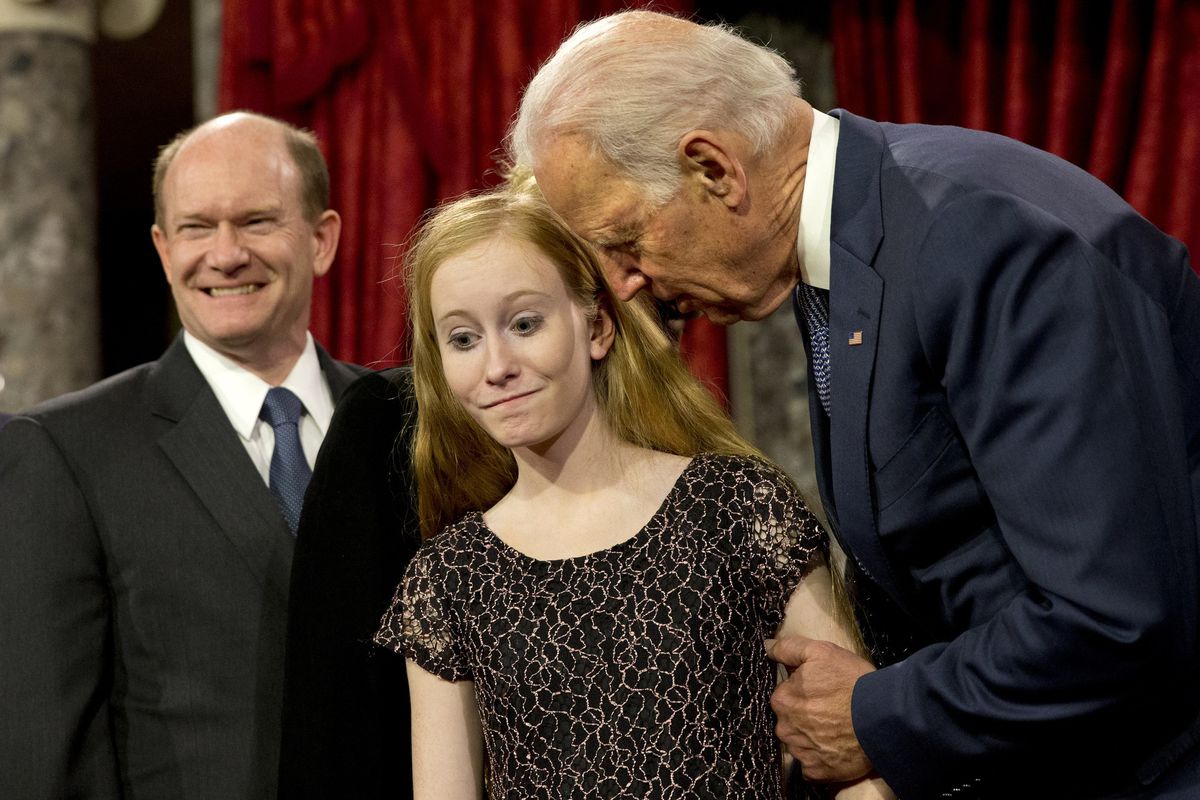 Well, folks. The dam is finally breaking on what is exactly going on with the Hunter Biden laptop scandal that the corporate media has refused to cover, simultaneously big tech is clamping down attempts to use their platform to share the story. And now we know why, because it involves underage children.
This weekend, Senatorial Candidate in Delaware and America First Patriot, Lauren Witzke, has exposed the most damning allegation yet. With an official police source confirming that Chris Coon's Daughter is one of several children on the Hunter Biden laptop.
BIG BREAKING NEWS:

"Sources close to and with deep knowledge of the investigation, have informed me that Chris Coons' DAUGHTER in addition to seven other underage girls are also featured on [Hunter Biden's] laptop." pic.twitter.com/rKWlUd7ep9

— Lauren Witzke (@LaurenWitzkeDE) October 24, 2020
There are other allegations going around possible connections to foreign children being on the Hunter Biden laptop as well as several children of other politicians including one of Barack Obama's daughter.
This only further proves Joe Biden and his entire family, and Chris Coons, are completely compromised by foreign entities and domestic deep state actors within our Government. They hold no allegiance to anything but what their masters tell them to do, because at the end of the day they are at the whims of others leaking this information and publicly destroying them and their career.
We can only imagine more damning allegations are coming to break now that we have a first look at just how explosive the "Laptop From Hell", as President Donald Trump puts it, really is.
Pitiful GOP Governor Larry Hogan Attempts to Sabotage Pro-Trump Republican Kimberly Klacik's Election on April 28th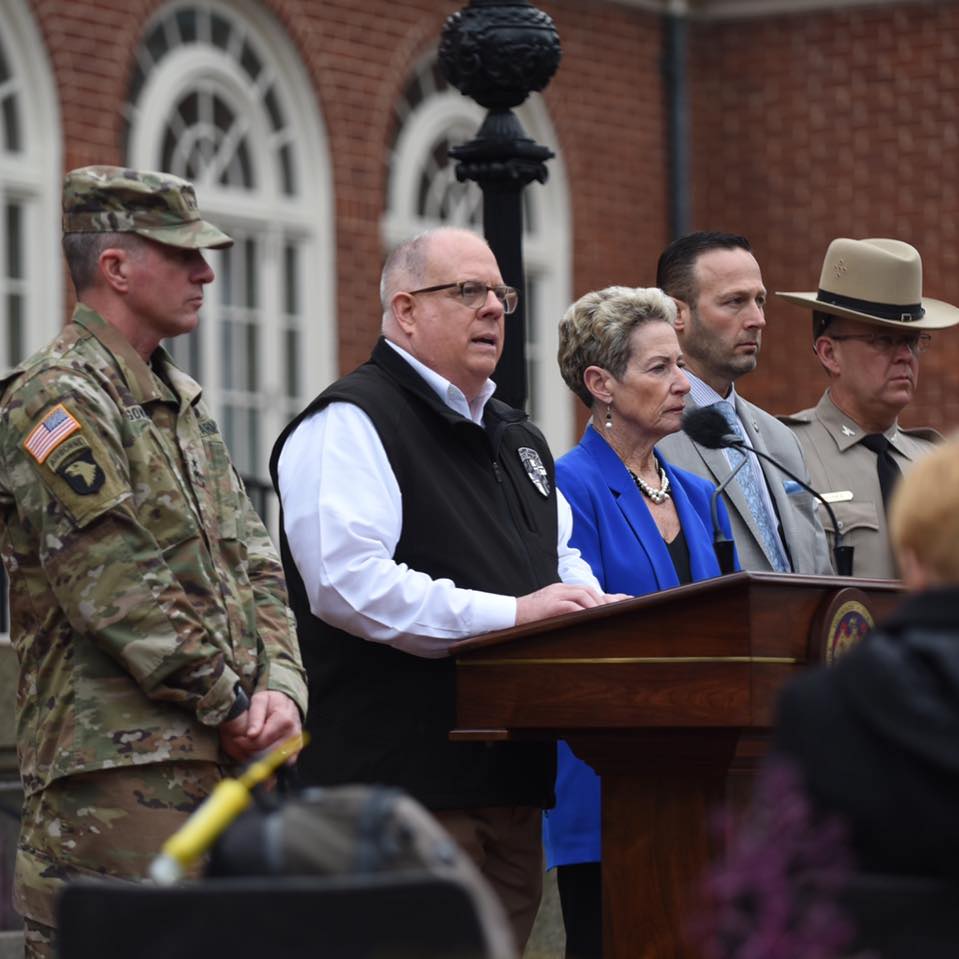 Baltimore, MD – Weeks ago, Maryland Governor Larry Hogan issued an Executive order requiring mail-in voting for the special election to fill Congressman Elijah Cummings vacant U.S. House seat on April 28th. As if voting by mail isn't already a potential disaster for fraud waiting to happen, Larry Hogan essentially guaranteed fraud will happen to a rather large scale with this order, as pro-Trump candidate Kimberly Klacik explains in this tweet. 
-0:51:00 proves the @md_sbe did not make an independent decision, District 7's change was ordered.

Voter fraud & voter suppression will be a direct result of @GovLarryHogan going back on his executive order while trying to keep his hands clean. Pls investigate @AGWilliamBarr https://t.co/OaEat3cWXD

— Kimberly Klacik (@kimKBaltimore) April 15, 2020
Over 7,000 votes were already mailed in yesterday, when Governor Hogan modified his order to allow one polling station in each of District 7's counties, which will allow people to vote twice. Historically, voter fraud is not favorable to Republican candidates. In the following Board of Elections meeting, the board members mention several times that this change was by Governor Hogan's order, essentially making their vote a mere formality. 
https://elections.maryland.gov/about/board.html
Larry Hogan, although a Republican, is wildly popular in the predominantly liberal state of Maryland, touting a 70% approval rating. Maryland Liberals naturally love Larry's consistent criticism of President Donald Trump. He was a vocal critic when the President told "The Squad" that if they don't like America, they can go back. In early March, Governor Hogan stated that he was not satisfied with President Trump's communication regarding the COVID-19 pandemic. More recently he stated that he is still not satisfied with the administration's response. Other Governors, including Democratic ones have publicly praised Trump's administration, including Governor Gavin Newsome of California. 
What could be motivating the Governor to sabotage this race in favor of a Democrat? It could be that he just hates the President that much, and any candidate willing to support him is no friend of his. What is intriguing about this, is that last summer it was Kimberly Klacik who tweeted about rats in Baltimore City, which prompted President Trump to tweet about the disgusting state of Baltimore. Despite the truthfulness of those tweets, Larry Hogan called them "Outrageous and inappropriate." Elijah Cummings has since passed away, leaving his U.S. House seat vacant. Kimberly Klacik is running for that vacant seat. 
Many observers outside the state of Maryland would describe Larry Hogan as RINO, a Republican in name only. The truth is he is the typical pre-Trump Republican that cares mostly about corporate profit, low taxes, and GDP with little regard to putting Americans First. Despite all of his anti Trump whining, that didn't stop him from begging for more H1B visa allotments for crab pickers. 
Other Democrats across the country have also been promoting the vote by mail fraud scheme, including Delaware Senator Chris Coons and Massachusetts Senator Elizabeth Warren. 
When asked for further comment, Kimberly Klacik stated that she is, "pursuing legal action." 
Twitter Profile With No Tweets Or Followers Suspended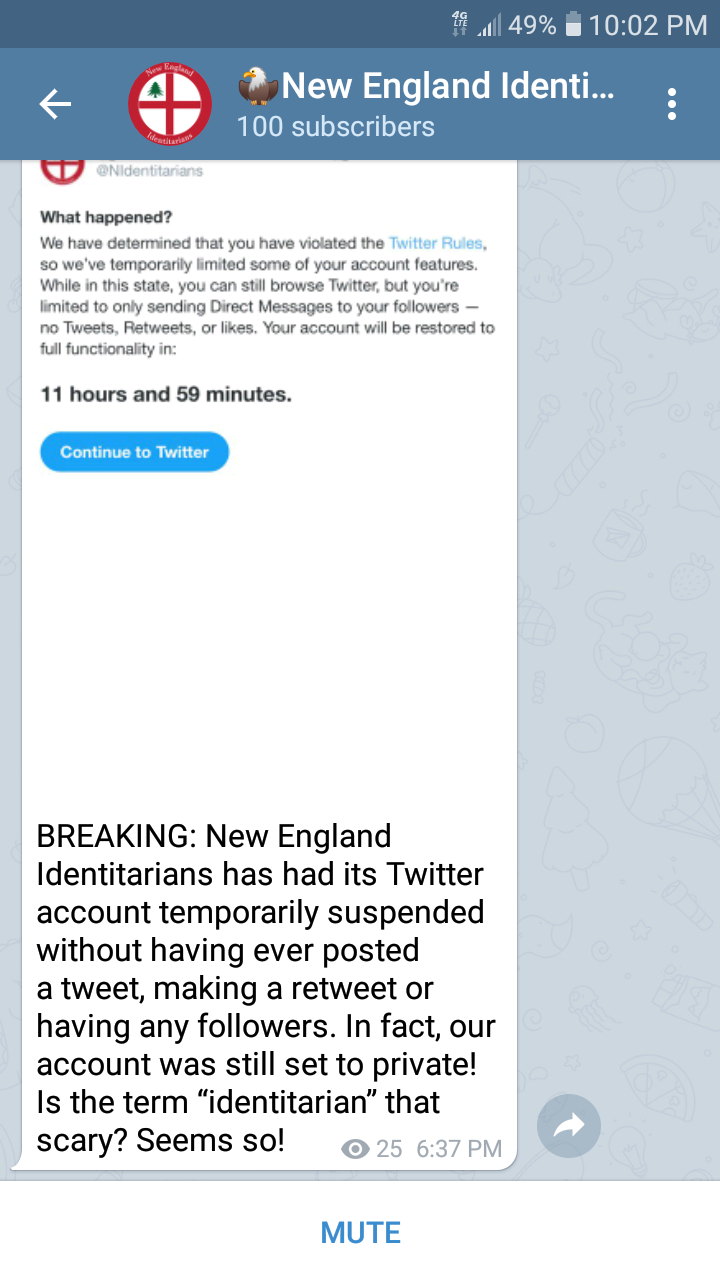 New England – A Twitter page for a group called New England Identitarians was temporarily suspended evidently for using the word "Identitarian". The page had zero followers at the time, and was yet to even make a tweet. In fact, the page was set to private. 
Regardless of what you might think of "Identitarian" ideology, most people can agree that the word itself shouldn't trigger a ban from the public square, which is what social media companies such as Facebook and Twitter are functioning as. The First Amendment was intended to protect the public from government censorship, but in the current day the main medium for public discourse is social media. Practically speaking, there is no difference. It must be lawfully determined if these companies are neutral platforms, or if they function as publishers with editorial judgement. 
The same goes for the popular video platform YouTube as well. Formerly known as a free speech medium, it's now only friendly for what are deemed acceptable opinions. Across all of these sites, "hate speech" is broadly used as an excuse to censor political views that the company doesn't like, with a strong partisan bias against conservatives. Other free speech friendly social media networks to try are Telegram, Gab, and Parlor. An up-and-coming alternative to YouTube is BitChute.  For livestreaming, there's D'Live. Perhaps it's time that we all begin to migrate away from the tyrannical mainstream sites.