Independent Brands Mad At Whole Foods For New Pricing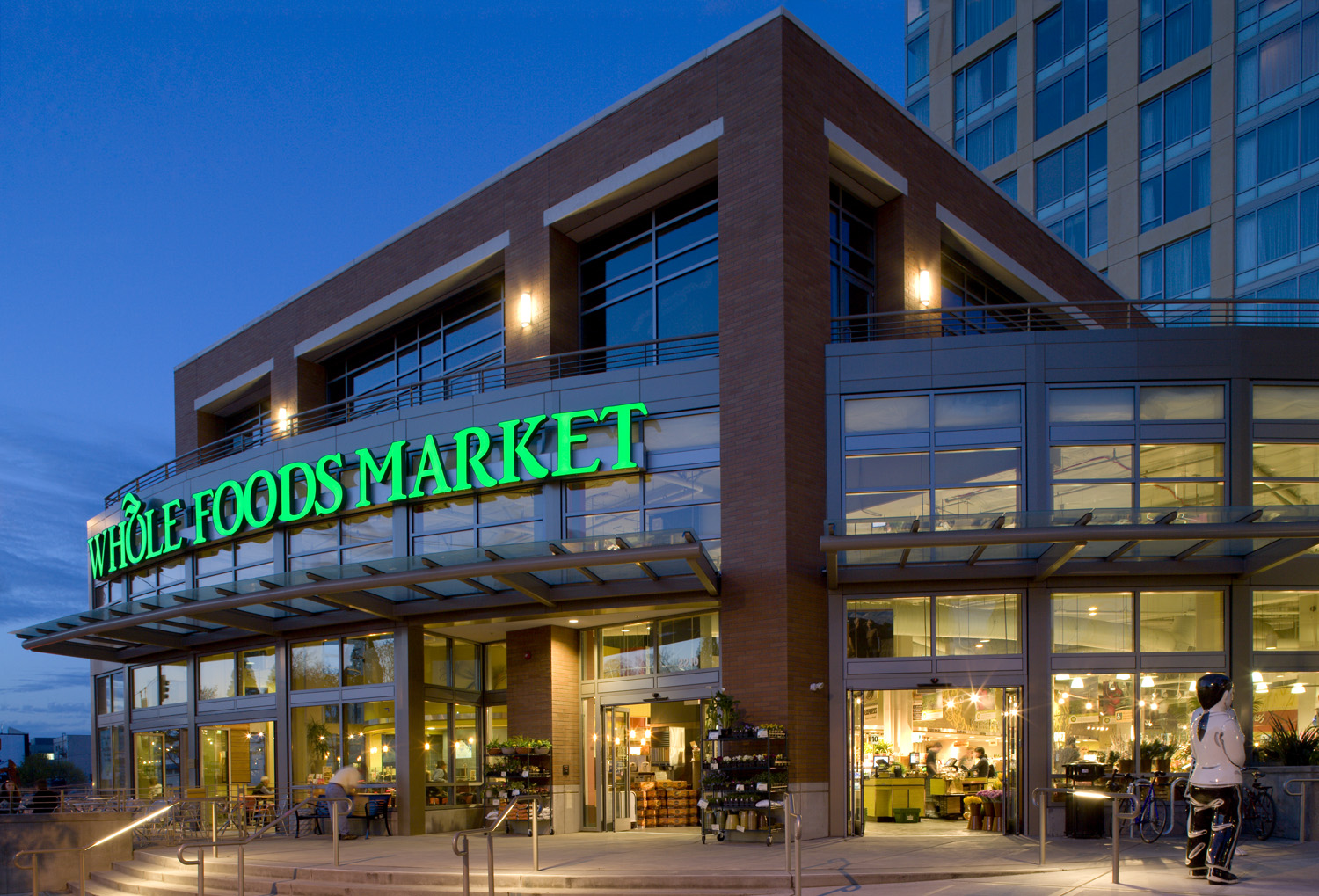 The independent and up-and-coming brands that were once a hallmark of Whole Foods Markets' success – particularly during the early days when it was still a privately-owned brand based in Austin, Texas – are on the verge of a revolt against the store now that it's under new management as Amazon tries to squeeze every last penny out of one of its most high-profile investments.


Several small brands complained to Business Insider that WFM recently hiked the fees its vendors are expected to pay, making them responsible for more of the costs of shipping and stocking their products. The company has also started instituting higher fees for prime shelf space, as well as additional fees if smaller brands want to hold product demonstrations in Whole Foods' stores.


It's also forcing smaller brands to pay additional fees to a small, Connecticut-based "retail consulting" shop while also dropping "minimum shipment" guidelines that helped stores experiment with small batches of new products.


The hostility of the brand's new corporate overlords has made some smaller sellers nostalgic for the good ol' days when WFM was still an innovator in the world of independent food brands and locally sourced products…


"I once drove to every Whole Foods store in the Portland area and dropped off jars of our nut butters" for stores to sell, said the founder of a brand of natural nut butter. "That's over, that's done. That's not ever happening again."


Another vendor intimated that their brand is on the verge of pulling out of WFM because, with the added fees, the company is now losing money on some of its shipments…


"They have pissed off their employees, they have pissed off customers, and they have pissed off their vendors," said a Whole Foods vendor of eight years who asked to remain anonymous for fear of retribution. "From a financial perspective, we can only take so much abuse before we say this just isn't working for us anymore."


ut the irony is, by squeezing small brands past their breaking points, Amazon risks destroying the one competitive advantage that helped bring WFM to national prominence: It's offerings of local and independent brands. In the old days, store managers were famously given autonomy to strike deals with small producers. Now, most product decisions have been centralized at WFM's headquarters in Austin.


Of course, Daymon, the consulting firm that WFM now employs, says WFM is just trying to equitably distribute its cost burden…by making it impossible for small brands to compete with faux-indie labels like Annie's Homegrown, which is of course owned by General Mills.

Lauren Witzke: Among Several Children on Hunter Biden Laptop, Including Chris Coon's Daughter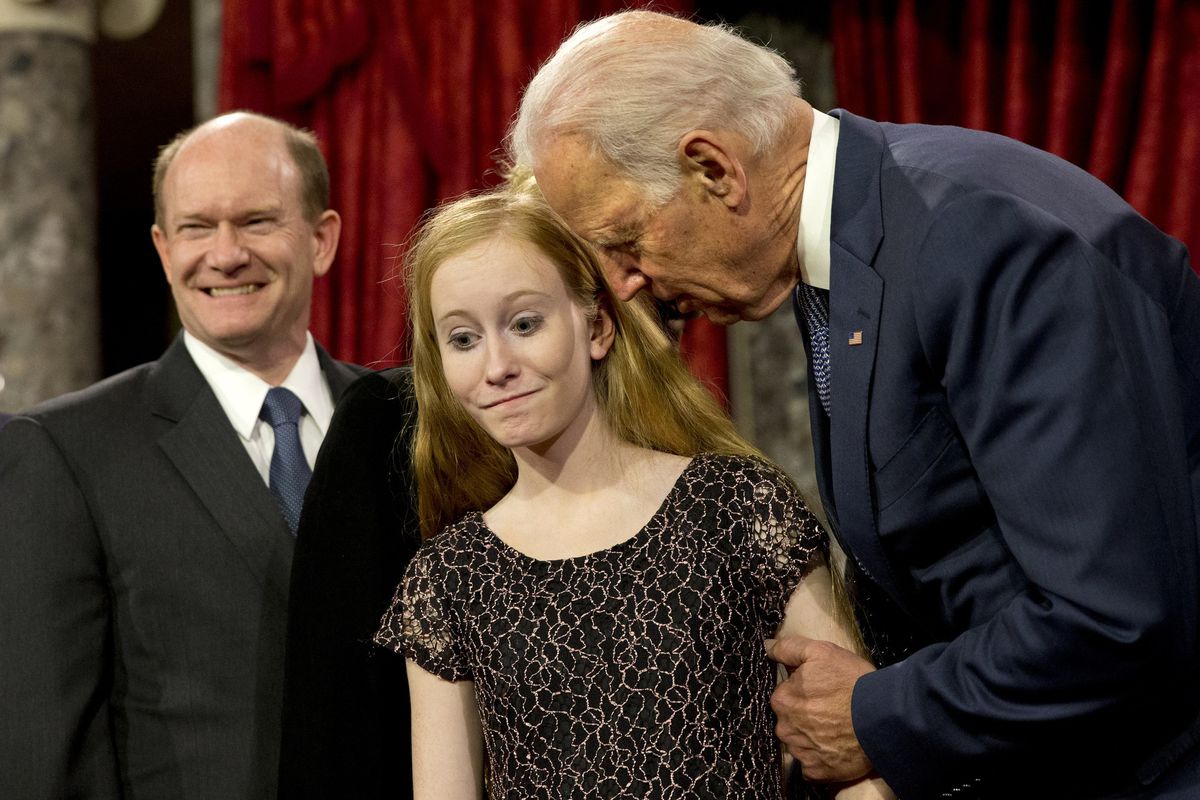 Well, folks. The dam is finally breaking on what is exactly going on with the Hunter Biden laptop scandal that the corporate media has refused to cover, simultaneously big tech is clamping down attempts to use their platform to share the story. And now we know why, because it involves underage children.
This weekend, Senatorial Candidate in Delaware and America First Patriot, Lauren Witzke, has exposed the most damning allegation yet. With an official police source confirming that Chris Coon's Daughter is one of several children on the Hunter Biden laptop.
BIG BREAKING NEWS:

"Sources close to and with deep knowledge of the investigation, have informed me that Chris Coons' DAUGHTER in addition to seven other underage girls are also featured on [Hunter Biden's] laptop." pic.twitter.com/rKWlUd7ep9

— Lauren Witzke (@LaurenWitzkeDE) October 24, 2020
There are other allegations going around possible connections to foreign children being on the Hunter Biden laptop as well as several children of other politicians including one of Barack Obama's daughter.
This only further proves Joe Biden and his entire family, and Chris Coons, are completely compromised by foreign entities and domestic deep state actors within our Government. They hold no allegiance to anything but what their masters tell them to do, because at the end of the day they are at the whims of others leaking this information and publicly destroying them and their career.
We can only imagine more damning allegations are coming to break now that we have a first look at just how explosive the "Laptop From Hell", as President Donald Trump puts it, really is.
Pitiful GOP Governor Larry Hogan Attempts to Sabotage Pro-Trump Republican Kimberly Klacik's Election on April 28th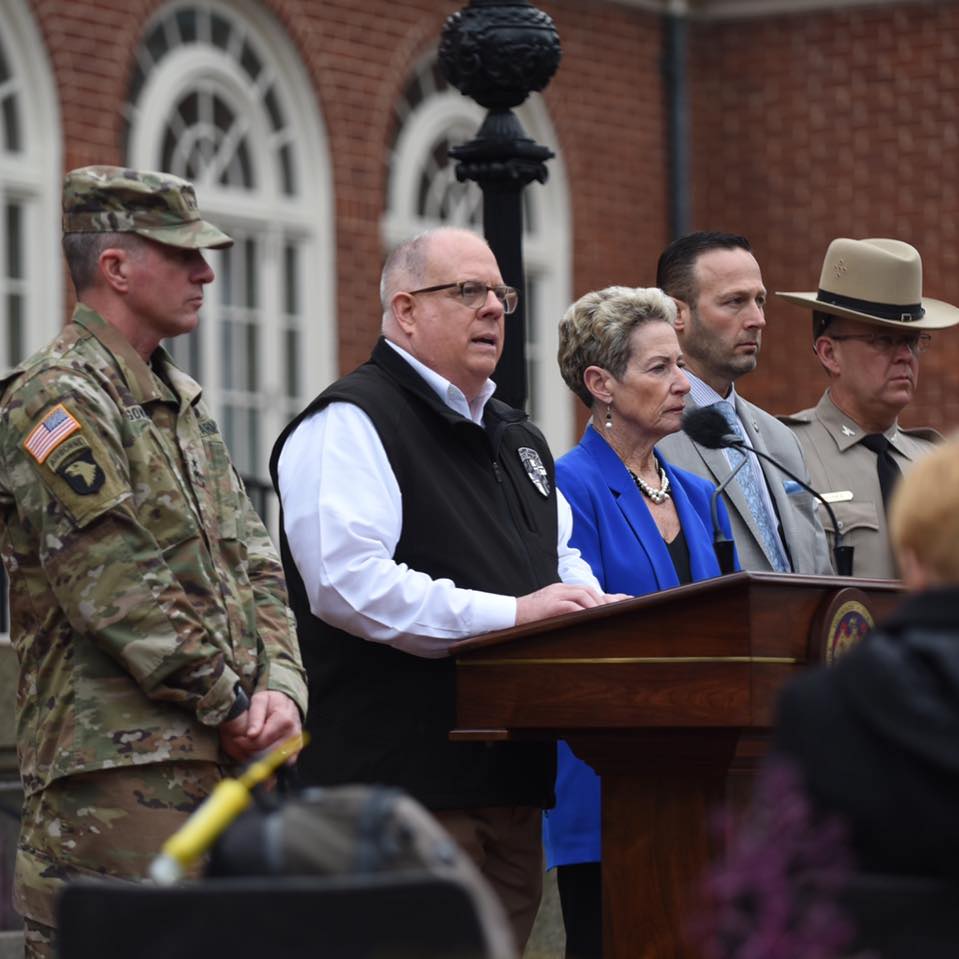 Baltimore, MD – Weeks ago, Maryland Governor Larry Hogan issued an Executive order requiring mail-in voting for the special election to fill Congressman Elijah Cummings vacant U.S. House seat on April 28th. As if voting by mail isn't already a potential disaster for fraud waiting to happen, Larry Hogan essentially guaranteed fraud will happen to a rather large scale with this order, as pro-Trump candidate Kimberly Klacik explains in this tweet. 
-0:51:00 proves the @md_sbe did not make an independent decision, District 7's change was ordered.

Voter fraud & voter suppression will be a direct result of @GovLarryHogan going back on his executive order while trying to keep his hands clean. Pls investigate @AGWilliamBarr https://t.co/OaEat3cWXD

— Kimberly Klacik (@kimKBaltimore) April 15, 2020
Over 7,000 votes were already mailed in yesterday, when Governor Hogan modified his order to allow one polling station in each of District 7's counties, which will allow people to vote twice. Historically, voter fraud is not favorable to Republican candidates. In the following Board of Elections meeting, the board members mention several times that this change was by Governor Hogan's order, essentially making their vote a mere formality. 
https://elections.maryland.gov/about/board.html
Larry Hogan, although a Republican, is wildly popular in the predominantly liberal state of Maryland, touting a 70% approval rating. Maryland Liberals naturally love Larry's consistent criticism of President Donald Trump. He was a vocal critic when the President told "The Squad" that if they don't like America, they can go back. In early March, Governor Hogan stated that he was not satisfied with President Trump's communication regarding the COVID-19 pandemic. More recently he stated that he is still not satisfied with the administration's response. Other Governors, including Democratic ones have publicly praised Trump's administration, including Governor Gavin Newsome of California. 
What could be motivating the Governor to sabotage this race in favor of a Democrat? It could be that he just hates the President that much, and any candidate willing to support him is no friend of his. What is intriguing about this, is that last summer it was Kimberly Klacik who tweeted about rats in Baltimore City, which prompted President Trump to tweet about the disgusting state of Baltimore. Despite the truthfulness of those tweets, Larry Hogan called them "Outrageous and inappropriate." Elijah Cummings has since passed away, leaving his U.S. House seat vacant. Kimberly Klacik is running for that vacant seat. 
Many observers outside the state of Maryland would describe Larry Hogan as RINO, a Republican in name only. The truth is he is the typical pre-Trump Republican that cares mostly about corporate profit, low taxes, and GDP with little regard to putting Americans First. Despite all of his anti Trump whining, that didn't stop him from begging for more H1B visa allotments for crab pickers. 
Other Democrats across the country have also been promoting the vote by mail fraud scheme, including Delaware Senator Chris Coons and Massachusetts Senator Elizabeth Warren. 
When asked for further comment, Kimberly Klacik stated that she is, "pursuing legal action." 
Twitter Profile With No Tweets Or Followers Suspended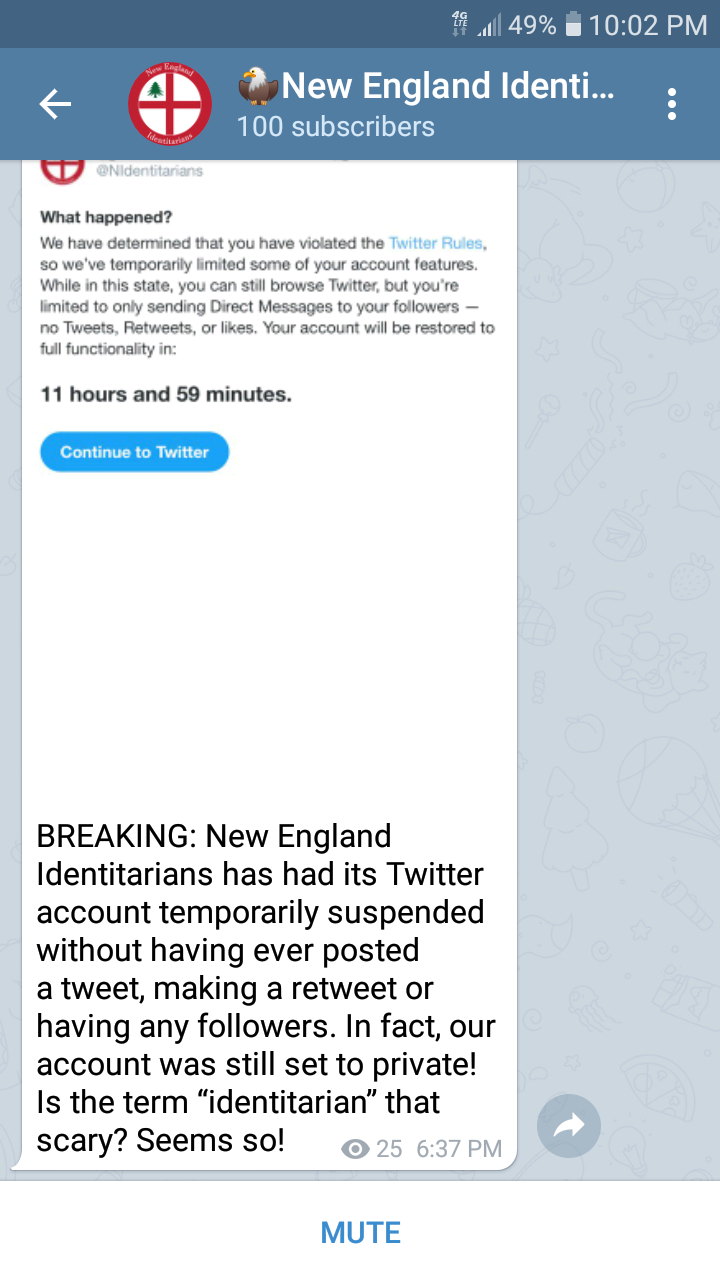 New England – A Twitter page for a group called New England Identitarians was temporarily suspended evidently for using the word "Identitarian". The page had zero followers at the time, and was yet to even make a tweet. In fact, the page was set to private. 
Regardless of what you might think of "Identitarian" ideology, most people can agree that the word itself shouldn't trigger a ban from the public square, which is what social media companies such as Facebook and Twitter are functioning as. The First Amendment was intended to protect the public from government censorship, but in the current day the main medium for public discourse is social media. Practically speaking, there is no difference. It must be lawfully determined if these companies are neutral platforms, or if they function as publishers with editorial judgement. 
The same goes for the popular video platform YouTube as well. Formerly known as a free speech medium, it's now only friendly for what are deemed acceptable opinions. Across all of these sites, "hate speech" is broadly used as an excuse to censor political views that the company doesn't like, with a strong partisan bias against conservatives. Other free speech friendly social media networks to try are Telegram, Gab, and Parlor. An up-and-coming alternative to YouTube is BitChute.  For livestreaming, there's D'Live. Perhaps it's time that we all begin to migrate away from the tyrannical mainstream sites.