Mike Rowe Destroys Woman Who Wants Him Fired For Being A "Right Wing Conservative"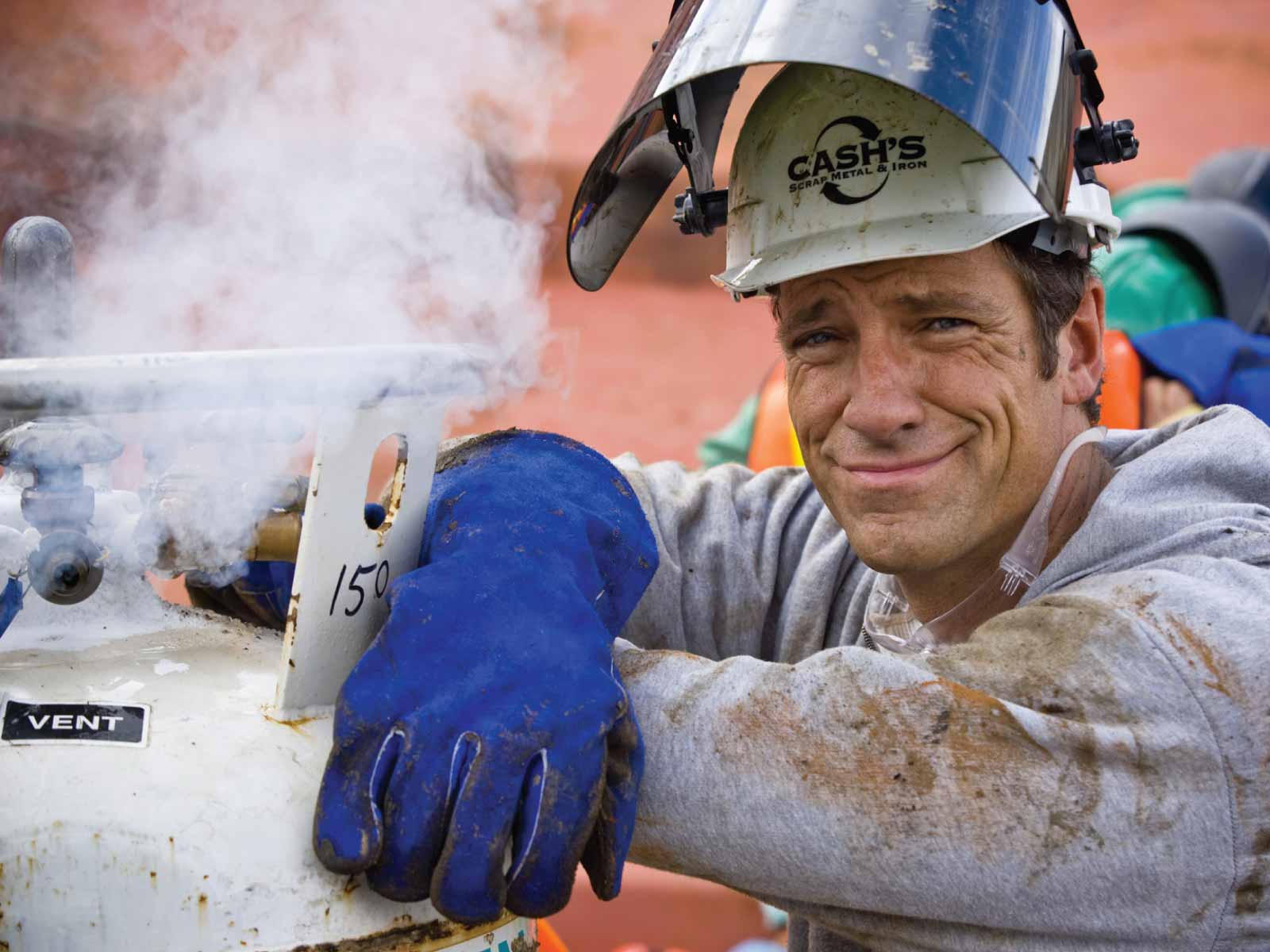 (Via Zerohedge)
TV host Mike Rowe is known for his measured, devastating take-downs of people who attack him or his work. He has perfected the art of subtly twisting the knife in the side of critics with calm, cool language.
This skill was on display Thursday when Rowe responded to a woman criticized his politics on Facebook.


Rowe narrates the show "How The Universe Works" on the Science Channel. The woman, Rebecca Bright, called Rowe an "anti-education, science doubting, ultra-right wing conservative" who should be fired.


"I love the show How the Universe Works, but I'm lost on how the producers and the Science Channel can allow anti-education, science doubting, ultra-right wing conservative Mike Rowe to narrate the show," Bright wrote, according to Rowe. "There are countless scientists that should be hired for that, or actors, if you must, that believe in education and science that would sound great narrating the show, example: Morgan Freeman. Cancel this fools contract and get any of your scientists so often on the show to narrate it."


In his response, Rowe started off by exhibiting his knowledge of the subject of the show and killing Rebecca with kindness:


Well hi there, Rebecca. How's it going?


First of all, I'm glad you like the show. "How the Universe Works" is a terrific documentary series that I've had the pleasure of narrating for the last six seasons. I thought this week's premiere was especially good. It was called, "Are Black Holes Real?" If you didn't see it, spoiler alert….no one knows!!!


It's true. The existence of Black Holes has never been proven. Some cosmologists are now convinced they don't exist at all, and the race to prove their actuality has become pretty intense. Why? Because so much of what we think we know about the cosmos depends upon them. In other words, the most popular explanations as to how the universe actually works, are based upon the existence of a thing that no one has been able to prove.


As I'm sure you know, it's OK to make assumptions based on theories. In fact, it's critical to progress. But it's easy these days to confuse theory with fact. Thanks to countless movies and television shows that feature Black Holes as a plot device, and many documentaries that bring them to life with gorgeous CGI effects and dramatic music, a lot of people are under the assumption that Black Holes are every bit as real as the Sun and the Moon. Well, maybe they are, and maybe they aren't. We just don't know. That's why I enjoyed this week's show so much. It acknowledged the reasons we should question the existence of something that many assume to be "settled science." It invited us to doubt.


Oftentimes, on programs like these, I'm asked to re-record a passage that's suddenly rendered inaccurate by the advent of new information. Sometimes, over the course of just a few days. That's how fast the information changes. Last year for instance, on an episode called "Galaxies," the original script – carefully vetted by the best minds in physics – claimed there were approximately one hundred billion galaxies in the known universe. A hundred billion! (Not a typo.) I couldn't believe it when I read it. I mean, the Milky Way alone has something like 400 billion stars! Andromeda has a trillion! How many stars must there be in a universe, with a hundred billion galaxies? Mind-boggling, right?


Well, a few weeks later, the best minds in physics came together again, and determined that the total number of galaxies in the universe was NOT in fact, a hundred billion. They were off. Not by a few thousand, or a few million, or few billion, or even a few hundred billion. The were off by two trillion. That's right…TWO TRILLION!!


But here's the point, Rebecca – when I narrate this program, it doesn't matter if I'm correct or incorrect – I always sound the same. And guess what? So do the experts.


Rowe then slowly turned his keyboard to Rebecca's idea that he should be fired because doesn't "believe in education and science," and it gets brutal:


When I wrote about this discrepancy, people became upset. They thought I was making fun of science. They thought I was suggesting that because physicists were off by one trillion, nine hundred billion galaxies, all science was suddenly suspect, and no claims could be trusted. In general, people like you accused me of "doubting science." Which is a curious accusation, since science without doubt isn't science at all.


This is an important point. If I said I was skeptical that a supernatural being put us here on Earth, you'd be justified in calling me a "doubter of religion." But if I said I was skeptical that manmade global warming was going to melt the icecaps, that doesn't make me a "doubter of science."


Once upon a time, the best minds in science told us the Sun revolved around the Earth. They also told us the Earth was flat, and that a really bad fever could be cured by blood-letting. Happily, those beliefs were questioned by skeptical minds, and we moved forward. Science is a wonderful thing, and a critical thing. But without doubt, science doesn't advance. Without skepticism, we have no reason to challenge the status quo. Anyway, enough pontificating. Let's consider for a moment, your very best efforts to have me fired.


You've called me an "ultra-right wing conservative," who is both "anti-education," and "science-doubting." Interestingly, you offer no proof. Odd, for a lover of science. So I challenge you to do so now. Please provide some evidence that I am in fact the person you've described. And by evidence, I don't mean a sentence taken out of context, or a meme that appeared in your newsfeed, or a photo of me standing next to a politician or a talk-show host you don't like. I mean actual proof of what you claim I am.


Also, please bear in mind that questioning the cost of a college degree does not make me "anti-education." Questioning the existence of dark-matter does not make me a "dark-matter denier." And questioning the wisdom of a universal $15 minimum wage doesn't make me an "ultra-right wing conservative." As for Morgan Freeman, I agree. He's a terrific narrator, and a worthy replacement. But remember, Morgan played God on the big screen. Twice. Moreover, he has publicly claimed to be a "believer." (gasp!) Should this disqualify him from narrating a series that contradicts the Bible at every turn? If not, why not?


Anyway, Rebecca, my beef with your post comes down to this – if you go to my boss and ask her to fire me because you can't stand the sound of my voice, I get it. Narrators with unpleasant voices should probably look for other work anyway, and if enough people share your view, no hard feelings – I'll make room for Morgan.


But if you're trying to get me fired simply because you don't like my worldview, well then, I'm going to fight back. Partly because I like my job, and partly because you're wrong about your assumptions, but mostly because your tactics typify a toxic blend of laziness and group-think that are all too common today – a hot mess of hashtags and intolerance that deepen the chasm currently dividing our country.


Re-read your own post, and think about your actual position. You've publicly asked a network to fire the narrator of a hit show because you might not share his personal beliefs. Don't you think that's kind of…extraordinary? Not only are you unwilling to engage with someone you disagree with – you can't even enjoy a show you claim to love if you suspect the narrator might not share your view of the world! Do you know how insular that makes you sound? How fragile?


I just visited your page, and read your own description of you. It was revealing. It says, "I stand my ground. I fear no one & nothing. I have & will fight for what's right."


Maybe I'm missing something, but I don't think the ground you're standing on is worth defending. If you truly fear "no one & nothing," it's not because you're brave; it's because you're unwilling to expose yourself to ideas that frighten you. And while I can see that you like to fight for what you think is "right" (in this case, getting people fired that you disagree with,) one could easily say the same thing about any other misguided, garden-variety bully.


In other words, Rebecca, I don't think you give a damn about science. If I'm wrong, prove it. Take a step back and be skeptical about your own assumptions. Take a moment to doubt your own words, and ask yourself – as any good scientist would – if you've got your head up a black hole.


Having said all that, I think you're gonna love next week's episode. It's called Multiple Stars! Check it out, Tuesdays at 10pm, on Science.


Best,
Mike
Trump Is Poised To Take 2024 By Storm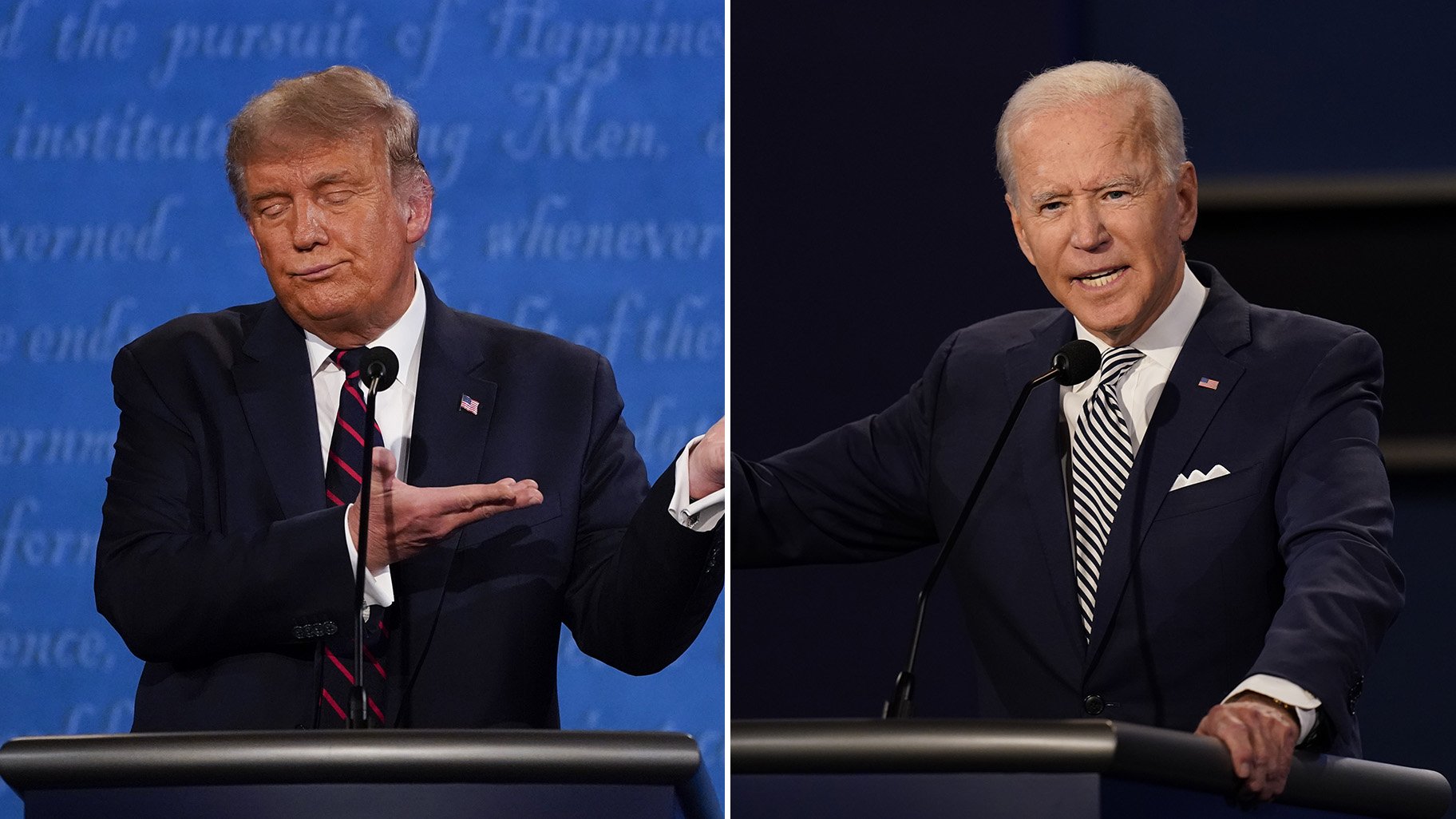 Biden has unsuccessfully been able to reform any issues left by the Trump administration and quite frankly has only made it worse. Inflation and the economy is hurting everyone, especially lower income voters who ironically voted for Biden. This has set off a windstorm for Biden as his approval rating goes further down the drain. With little hopes of any major policy wins before the 2022 election, Biden's Administration, which championed "getting things done", has stopped before it really even got off the ground.
With 2022 around the corner we will see a slue of Republican Presidential challengers, with Trump of course, being at the center of the pack. Rumors have it that Ron DeSantis, Chris Christie, and the like of Mitt Romney will all join the nomination, however this is only rumor and speculation. Trump however, will become the nominee. It would be hard for anyone to top someone who has already been President, even a firebrand like DeSantis, who has garnered  national support for a Presidential run.
Biden has failed so miserably that when a another Democrat attempts to challenge Trump's economy compared what we are in now, it will be completely inexcusable. Not to mention the major social engineering the majority of parents and Americans are rejecting in terms of the LGBTQ Mafia Agenda & BLM. Biden, if anything, has completely destroyed the Democratic party's chance of being a favorite with middle and upper-income voters, setting a disasters for the Democrats in 2024.
The Mis-education of Uncle Tom. The Racist Democrats. Part 2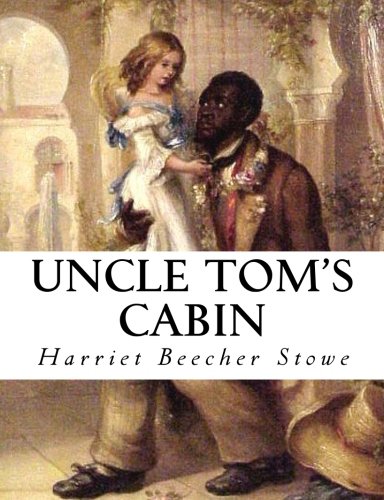 The left will rewrite history, whether it be Uncle Tom or Confederate statues. Don't believe the hype.
In 1852 Harriet Beecher Stowe wrote the fictional novel, Uncle Tom's Cabin. The character Uncle Tom was based on a real life person, Josiah Henson a former slave. Uncle Tom's Cabin was the most read book of the 19th Century. There was printing day and night 24 hours a day to keep up with demand. It was translated into over 60 languages. As history would have it, President Abraham Lincoln the first Republican President, met Harriet Beecher Stowe and said, "So you're the little lady that wrote the book that started this big war". Uncle Tom's Cabin was that influential.
Uncle Tom's Cabin had such an impact on the abolition of slavery, that the southern slave states made it a crime punishable by imprisonment or death to have, read, print or sell the book. It was even popular internationally putting more pressure on the institution of slavery. This gave a big boost to the slavery abolitionists movement among whites, blacks, Christians and the Republican party.
The real Uncle Tom was born Josiah Henson June 15th, 1789 in (Charles County) Rockville, Maryland. He was seperated from his family at 9 years old when his father back-talked a slave owner and was punished with a hundred lashes and had his right ear cut off. Josiah was owned by slave master Isaac Riley. Riley beat a young Josiah unconscious for having a book of grammar. It was forbidden in those days for a slave to learn how to read. But later on Josiah saved money to buy his freedom. To his dismay he was cheated out of his savings and freedom by master Riley. He then escaped to freedom in Kentucky. Soon many that escaped with him were sold and auctioned off. Then in 1850 in the compromise agreement the Democrat slave states were able to get into the legislation the Fugitive Slave Act which made it possible for Marshal's to automatically deputize anyone in free states to help apprehend a runaway slave from a slave state. This was a strengthening of the Fugitive Slave Act of 1793 which covered runaway slaves, who sought freedom in free states. So Josiah Henson and his family of two children and a wife trekked 600 miles on foot from Cincinnati to Canada to freedom. That was the only place where a man could be truly free after the Fugitive Slave Act of 1850.
Josiah started a Black settlement in Ontario, Canada with a multi-racial school which was unheard of at that time. He became a minister, author, educator and abolitionist who helped 100 slaves escape to Canada to freedom. He preached all over the U.S. and Europe, even getting a personal meeting with the Queen of England, Queen Victoria.
Josiah also lead a Black Militant Unit in The Canadian Rebellion of 1837-38. The Rebellions of Upper and Lower Canada were against The British Crown and political reform.
The southern slave states could not let the positive heroic legend of Uncle Tom stand. His faithful and brave character in the fictitious book who was beaten by Sambo every night until his death had to be diminished, as not to embolden the other slaves to follow in Josiah's cavernous footsteps. So they created the Uncle Tom traveling minstrel show. This depicted Uncle Tom as a dumb, ignorant buffoonish character. This show traveled all over erasing the positive image of Josiah the real Uncle Tom. Remember at this time many still were forbidden to read but everyone could understand a traveling minstrel show. That even made it all the more sinister. Feeding falsehoods to and unsuspecting people. And to this day our people do not know Josiah Henson, the real Uncle Tom, educator, minister, author, abolitionist and goodwill ambassador. Do not let them rewrite history. Do not let them tear down his statue.
News@11
By Michael Ameer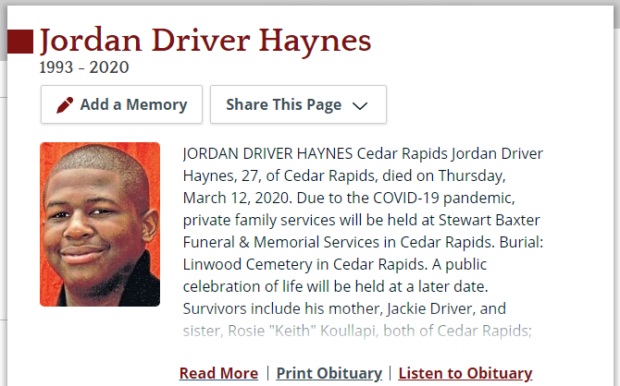 Are the CDC, local governments or politicians responsible for falsely labeling homicide deaths as COVID-19?
As per the Cedar Rapids Police Department they say the body of Jordan Driver Haynes, was found in a vehicle along I-380 was murdered. The county medical examiners office has identified the body and ruled cause of death a homicide. The circumstances are still under investigation. So if the police find an apparent homicide victim confirmed by the county coroner, how can this person come up on the list as a COVID-19 pandemic victim? This has been happening very often, and has been documented and reported. Family members have relatives die of various illnesses and accidents and then find somewhere that their loved ones death has been listed as COVID-19.
We have to expound on the financial incentives for this fraud.  A COVID-19 patient brings $13,000 reimbursement to the hospital from the government. A COVID-19 patient put on a ventilator brings $39,000 from the government. Many hospitals and local governments are running in the red and hemorrhaging funds. In New York City in close to twenty years 16 major hospitals have been closed down. Many blue states are close to insolvency. So the big dollars of the COVID-19 come up may be too sweet for some hospitals and governments to give up. Some doctors have said they have been pressured to label deaths as COVD-19.
So may things about this pandemic situation has not panned out to be what we were sold. The people are skeptical because of prediction after prediction after prediction has been wrong, from the amount of ventilators to the peak of hundreds of thousands dead in a week, to the hospitals being overrun and so on. The so called experts have been, wrong, wrong, wrong. The governors and mayors of blue states seem to relish wielding their draconian dictatorial powers to oppress their loyal subjects unnecessarily. The masses are starting to push back. Now we are having a decline in deaths and infections and an increase in suicides. The tide is starting to turn where the people are saying enough! The virus does not override my constitutional right of freedom to assemble and freedom to practice my religion in my designated house of worship.
The people are saying enough we want our lives back!
By Michael Ameer