Texas Governor Supports Two New Gun Control Laws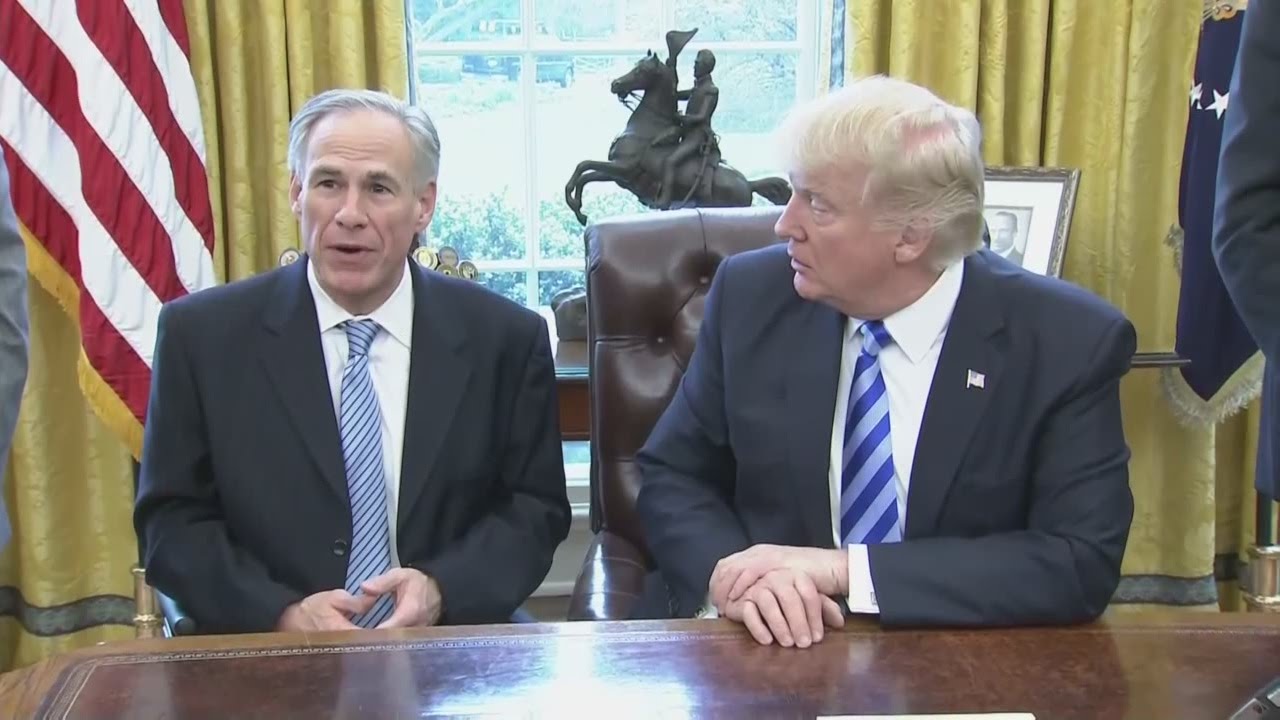 Greg Abbott says Texas mourns for the victims of this 'heinous' act, praises the actions of first responders, says he will convene roundtable discussions to create laws to protect the community.
Following last week's deadly shooting at a high school near Houston that left 10 people dead, Texas Gov. Greg Abbott said Wednesday that he could support some gun control measures.
The move is something of a change of heart for Abbott, a Republican who has worked to expand gun rights in Texas.
Earlier this year, Abbott had backed President Donald Trump's proposal to arm more teachers in lieu of sweeping gun control measures, saying that almost 20 percent of Texas schools already have trained and armed educators.
"When a shooting takes place, people want to rush to simple solutions," Abbott said in February, after a mass shooting at a Florida high school that killed 17. "It's time to tackle the tough solutions, and that's mental health."
On Wednesday, Abbott said he could back stronger regulations for gun storage and quicker reporting to law enforcement when a court has determined someone is mentally ill — in order to keep that person from having weapons.
The Texas governor said those were top considerations to emerge after meeting representatives of a gun control group and gun owners as well as mental health and education experts in discussions on school safety.
"This conversation is a long time in coming."
– Ed Scruggs, vice chairman, Texas Gun Sense
"We have one goal … making sure we're going to keep to our students, our schools, our communities safer," without limiting the right to bear arms, Abbott said.
Abbott called for the meetings as he weighs ideas for possible legislative action or executive orders. Tuesday focused on mental health issues.
IRS Has 5 Million+ Rounds of Ammo and 4,000+ Weapons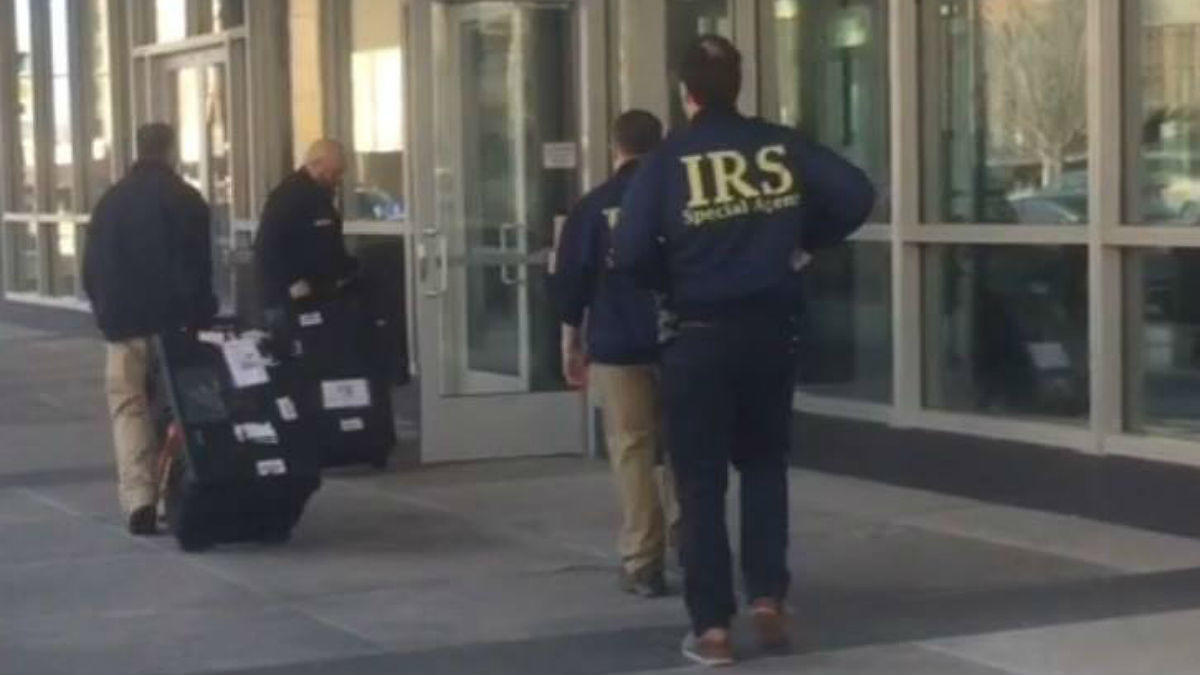 The Internal Revenue Service had in its weapons inventory 4,487 guns and 5,062,006 rounds of ammunition as of late 2017, according to a report published this month by the Government Accountability Office.
Included in this arsenal, according to the GAO, were 15 "fully automatic firearms" and 56,000 rounds of ammunition for those fully automatic firearms.
The same report–"Federal Law Enforcement: Purchases and Inventory Controls of Firearms, Ammuntion, and Tactical Equipment"–says that the Office of the Inspector General of the Department of Health and Human Services had 194 fully automatic firearms and 386,952 rounds of ammunition for those fully automatic firearm.
"The term 'fully automatic' used in this report," says a footnote in the report, "encompasses a range of firearms classified as machine guns, including submachine guns, three round burst guns, and guns with a selector switch that can enable continuous fire."
More Gun Control Is Not The Answer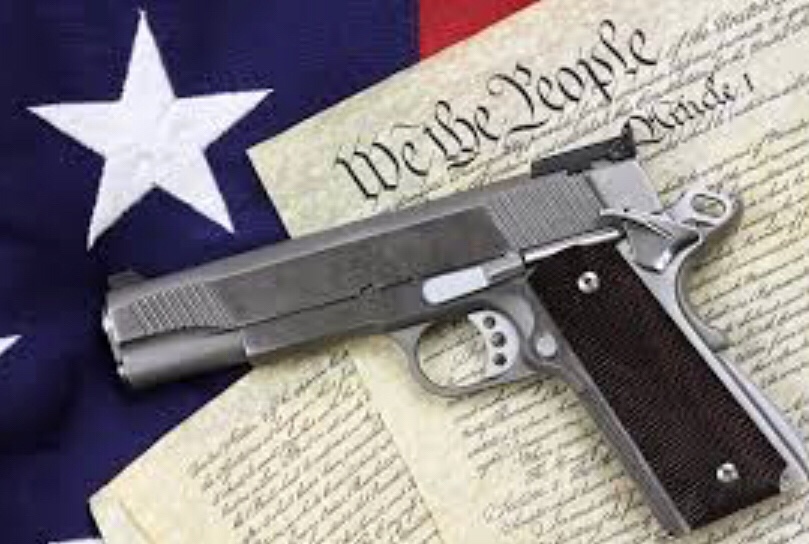 As an American college student I am a member of the most diverse and technologically advanced generation in the history of the world, and that is pretty cool. As a conservative millennial I feel my voice is often not heard.
I believe screaming for more "gun control" is not the answer. I want politicians on both sides of the aisle to stand up and admit the government failed on all levels during the Parkland shooting.
I am thankful U.S. Rep. Rod Blum had the strength to admit the federal and local governments failed. There was no oversight, and that needs to be addressed. I understand the need and want to feel safe at my school, but the cyclical narrative of disarming innocent civilians is not the answer. It is not only unconstitutional, but it won't solve the problem. Bad guys who want to do harm will find a way to make it happen. It is intellectually dishonest to attack the weapon and not the criminal.
I have made the conscious decision to not walk out of school to make my voice heard, but to walk up to students who are having a hard time and be a positive impact.
It is time we enforce laws already on the books and increase public safety by updating state compliance when it comes to background checks.
US Firearms Deaths Low Compared To Rest Of The World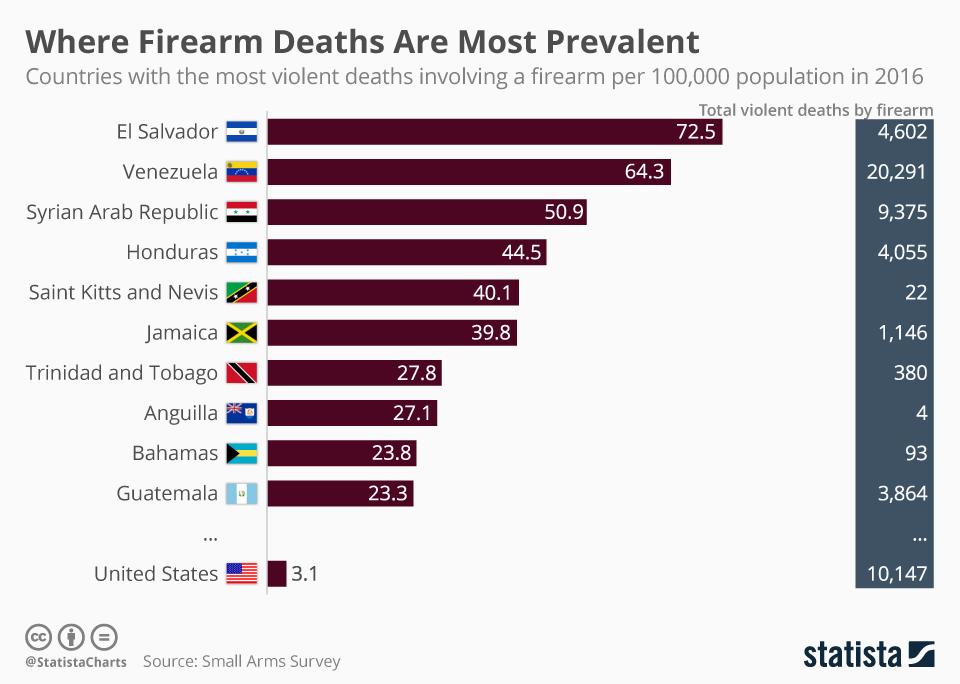 Firearm deaths in the United States receive an awful lot of attention.
Rightfully so, as a developed nation, the rate of violent deaths involving a firearm, and the horrendously frequent shootings targeting schools, is high.
However, as Statista's Martin Armstrong notes, compared to the whole world, the U.S. rate comes in well below countries such as El Salvador and Venezuela which had 72.5 and 64.3 firearm-related deaths per 100,000 population in 2016, respectively.
According to the Small Arms Survey, in the U.S. this rate is 3.1.